Emma Finucane was crowned the fastest woman in the world after a powerful display in the women's sprint, as Felix Barrow took home the bronze medal in the men's T2 road time-trial on day seven of the 2023 UCI Cycling World Championships in Glasgow and across Scotland.
Track
Emma Finucane was crowned the sprint world champion at just 20-years-old after a fantastic display of dominance throughout the entire competition.
After qualifying fastest with a new national record earlier in the week, Finucane had set herself up well for the semi-finals, having not lost a race in the 1/8 and quarter-finals. The national champion sprinted with ease past the two-time world champion Emma Hinze on both semi-final rides to go through to the gold medal final.
Finucane faced stiff competition against last year's winner, German Lea Sophie Friedrich, but showed her unbelievable power to win the first race after edging past Friedrich on the lunge for the line, and stormed through the second ride with a brilliant bike throw that saw her win in unbelievable speed.
Speaking after her win, Finucane said: "It's pretty good to be honest, after setting that 200m time I knew that I had really good legs. I still can't believe it and I don't think it will sink in for a long time but I'm super happy and proud that I could continue from the 10.2 in qualifying to today. I just gave it everything I could and I can't believe I beat the two Germans.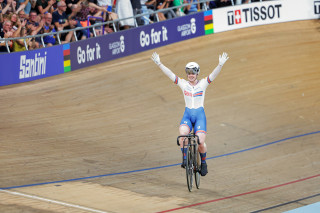 "It's definitely been something special to perform in front of a home crowd. Everyone was cheering my name, especially on the last lap of that race. I felt the crowd lift me up and I had more in me so I just gave it everything to the line. I'm just pleased I delivered in front of a home crowd.
"I really enjoyed the speed, obviously highs and lows from crashing in the keirin, silver in the team sprint with the other girls, and then this - it's just been a rollercoaster. It's amazing to finish on a high as world champion."
Katie Archibald came into the women's omnium off the back of her women's team pursuit gold earlier this week in a bid to regain her world championship title from 2021.
Archibald made the first significant move of the scratch race, attacking off the front to splinter the peloton before being reeled back in. Archibald finished in fourth place after getting boxed in on the final lap, before taking to the boards again in the tempo race. Archibald continued to show strength but with the target on her back as the home favourite, her efforts were shut down quickly, finishing in 13th place and seventh overall. A cagey elimination race saw two crashes early on, and Archibald was knocked out for 14th place.
The final 80 lap points race saw Archibald take a stormer of a solo lap to move up to third position overall on 95 points with 60 laps remaining. As Jennifer Valente and Ally Wollaston continued to storm the charge, Archibald cleverly stayed on wheels, before Lotte Kopecky and Amalie Dideriksen gained a lap to push Archibald down to sixth place. Archibald went again, this time with Kopecky and Dideriksen to take another 20 points and move to fourth. But, the final sprint saw the incredible Scot cross the line in third to take fourth place on 127 points in an incredible comeback performance at her home world championships.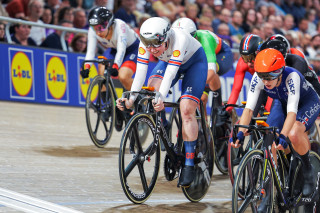 Jack Carlin and Hamish Turnbull both eased through their quarter-finals in the keirin in second and third, respectively, before Carlin showed his strength to finish second in the semis to get through to the gold medal ride off, while Turnbull came in 12th.
With Carlin being the sixth rider in the final draw, he came round with three laps to go to get to the front, and as the pace increased, Carlin couldn't escape the black line, staying boxed in and finishing in fifth place.
Will Perrett started his points race conservatively, before gaining five points in the sixth sprint to move into fourth place. Perrett continued to show his strength by going off the front with a group to gain a lap and retain his position as the pace increased. Perrett continued to take points and lap the field again to sit take his total up to 50 points and the bronze medal position, before taking two more laps and a point to have 71 points.
Sitting just one point behind the German in bronze, Perrett attempted to gain another lap, but it was too late for the national champion, taking fifth place on 75 points.
Para-road
Felix Barrow kicked off Great Britain's individual time-trials with a bang as part of the para-road programme, securing the bronze medal in the men's T2 category. Barrow stormed to the medal in a time of 18:14.70, much to the delight of his friends and family who were decked out in union flag bucket hats along the 10.7km route around Dumfries.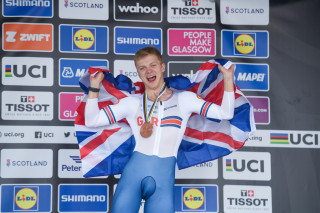 The afternoon saw the handcycles take to the course, racing over a 17km route, which saw Luke Jones come home in 15th place in the men's H3 category. Alex Brooke-Turner placed 10th in the H4 race, and Nick Beighton also finished in 15th place in the H5 race, despite suffering from technical issues that plagued his time-trial.
Claire Danson finished in 14th place after suffering a nasty crash early on in the women's H3 time-trial.
Danson said: "It's amazing to be here. I just wanted to do sport again and I couldn't have dreamt that it would be on a stage like this. To be among a team like this, we've done so well on the track this week already, and I think we'll see a load more medals tomorrow, and just to be amongst them is such an honour and privilege - it's unreal! Just a massive thank you to all my physios, my family, British Cycling, and also to the National Lottery - there's such a massive team behind us and we couldn't do it without them."
Road
In the under-23 men's time-trial, Josh Charlton rode incredibly well to finish in sixth place. The under-23 national time-trial champion went out hot, sitting in the bronze medal position, before the hills of Stirling took its toll on the 36.2km course, with Charlton clocking 44:12.03. Scotsman Callum Thornley took 14th place in 44:46.22.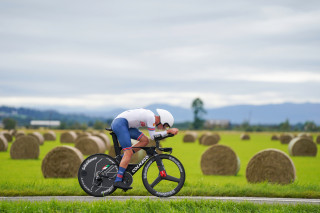 Charlton said: "It was hard, really hard. I was going pretty quick in the first two-thirds of it, I was up there at the second time check, but just faded a bit after that really. I didn't quite have the length and it's not a course that you can be all over the place, you have to be leaning on the pedals all the time. Sixth in the world isn't bad - I'll take that."
Cross-country mountain bike
In the mixed team relay at the cross-country mountain bike event, Charlie Aldridge set a steaming opening lap to lead Great Britain before passing to junior Max Greensill. Greensill continued to maintain the lead, passing over to local rider Emily Carrick-Anderson, and then on to Anna McGorum. As the Swiss, Danish and French riders continued to push the pace, the Great Britain junior and under-23 riders felt it, before changing over to Annie Last who worked hard to close the time gap. Cameron Orr put it all out there on the final lap, securing a sixth place for Great Britain.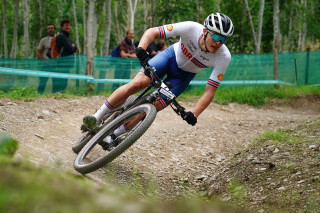 In the e-mountain bike races, sporting legend Tracey Moseley came in fifth in the women's race, while Chris Hutchens came in 12th and Robert Williams was unable to finish the tricky course.
Riders will be hunting for more medals tomorrow in the mountain bike junior Olympic and elite short track finals, and the junior women's and elite women's time-trials, while the para-road time-trials will continue with the B and C categories. You can keep up to date with all the action across the British Cycling social media accounts @BritishCycling and #GlasgowScotland2023.