Matt Walker and Hattie Harnden battled with the mud to win the 2023 British National Downhill Championships in Rhyd-y-Felin, Wales, having both won the previous National Series round.
One of the favourite tracks in the UK, Rhy-y-Felin has hosted the national championships on many occasions and this year's edition saw riders tackle the fast and challenging course in heavy rain. With each section of the track covered in mud, wet rocks, and slippery roots, the riders really had to be on their game from top to bottom.
There were 268 riders in attendance at this year's championships, from former world champions to riders taking their first steps into national championship racing.
Senior women
Hattie Harnden (Trek Factory Racing) took a commanding win in the women's event a solid five seconds ahead of her fellow competitors, making her one of the few people to have secured the national championship jersey in cyclocross, cross-country and downhill in her first downhill season. Tahnee Seagrave (Canyon Collective FMD) took home second, with Phoebe Gale (Canyon Collective FMD) rounding off the podium in third.
Senior men
It was close battle between Matt Walker (Madison Saracen Factory Team) and Danny Hart (Cube Factory Racing), with just 0.5 seconds separating the top two former teammates. Hart had technical issues in his seeding run, making him the first man down the hill in the finals. The Cube Factory rider had to sit in the hot seat throughout the entire race runs only to be beaten by Walker on the very last rider down the hill. It was ultimately Walker who took the national championship jersey ahead of Hart in second and Joe Breeden in third.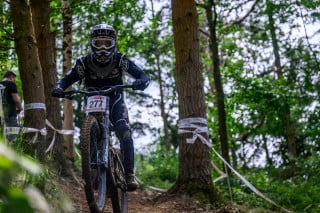 Junior
In the junior men's, Dom Platt (Continental Atherton) stormed to victory taking the national champions jersey by just under five seconds in what is becoming one of the toughest fields in downhill racing. Multiple riders have been strong in the National Series, winning a number of rounds and showing the current crop of fast junior riders. Leo Frater (YT Mob) took home second and Alfie Heming (Gawton Gravity Hub) came in third.
There was no stopping Aimi Kenyon (Pinkbike Racing) with a rapid lap time of 3:40:422 in the junior women category, taking the win by nearly 25 seconds. In second place was Elin Berry and Nina-Yves Cameron (Oneal Racing) in third.
Youth and juvenile
Muc-Off Young Gun's Heather Wilson took a storming win in the youth girl's class ahead of Jessica Wipat (Tay Titans) in second and Katie Charlton (North Cotswold CC) in third. In the juvenile field, Katy McGowan took the win, with Katie Melville (Blumilk.com) in second and Willow Baker in third.
In the youth boy's race, George Madley (Madison Saracen) took the win, ahead of Isaac Batty (Manx Mud Downhill Club) in second and Sorley Swabey (West Highland Wheelers) in third. Harrison Schofield (T.N.T) secured the win in the juvenile field, with Rhys Price (Pearce Cycles RT) in second and Nick Etherton (GT Viris Team) in third.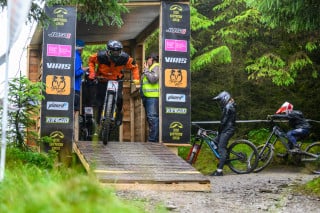 Masters and veterans
Vaska Prostova took the win in the women's masters field ahead of Sara Allan, while in the veterans class, Jane Page was victorious ahead of Lisa Conway.
In the 30-34 field, Ben Gillet took the top podium, ahead of Matthew Rushton (Hope Factory Racing) in second and Sam Wood in third. In the 35-39 class, Ben Deakin (Focus Bikes) narrowly missed out on top podium, with Robert Young taking first, Deakin in second, and Michael Vickers in third.
Leon Rosser had a quick start to his lap, with the fastest veteran time going into the first split, but it was Paul Walton who put the power down in the final stages to take the win in the 40-44 class ahead of Neil White in second and Rosser in third. In the 45-49 field, John Young took first place, with Kris Lord narrowly missing out by under a second to take second place, followed by Ben Thompson in third.
Mark Weightman took the win in the grand veterans race, with John Cobb taking second and Alastair Maclennan (West Highland Wheelers) in third.