British Cycling can today announce the 84 riders selected to represent the Great Britain Cycling Team in the road and para-road events at the 2023 UCI Cycling World Championships in Glasgow and across Scotland.
The para-road squad features four current world champions who will be aiming to defend their titles, while the road squad will see pro-road royalty take to the streets of Scotland in a bid to make it onto the top step of the podium.

The road and time-trial events form part of an 11-day programme of 13 world championship events taking place in Glasgow and across Scotland, from 3-13 August, with 8,000 riders competing and 190 UCI World Champions to be crowned.

The para-road events will take place in Dumfries and Galloway from 9-13 August, while the road events will take place across the duration of the event, with starts and finishes in Glasgow, Edinburgh, Stirling and Loch Lomond.
Road
The 2018 Tour de France winner Geraint Thomas has been selected to lead the elite men's road squad, competing in the time-trial, while newly-crowned national road race champion Fred Wright, Ben Swift and Luke Rowe will head up the men's road race squad.

Also competing in the elite men's road race are INEOS Grenadiers' Connor Swift and Ben Turner, Groupama-FDJ rider Jake Stewart and Owain Doull of EF-Education EasyPost. Sam Watson will join the elite men's squad for the first time at a world championships, while last year's junior time-trial world chamion Josh Tarling will once again take to the time-trial with hopes of taking his first elite rainbow jersey.

Riders contesting the under-23 men's road race include Lukas Nerurkar, who took a recent stage win at the Orlens Nations Cup. Ones to watch from the junior line-up include Tomos Pattinson who has seen recent success taking third place in the Saarlands nations cup, and the junior national championships time-trial.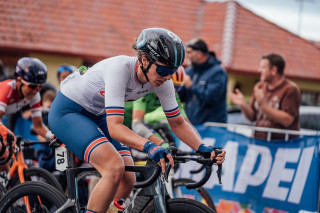 The 2015 women's road race world champion Lizzie Deignan has been selected to return to the world championships after giving birth to her second child last September. She will be joined by last year's world under-23 road race silver medallist, Pfeiffer Georgi, who will be heading to Glasgow for her first elite level world championships, having recently been crowned the British national champion for a second time.

The under-23 women's national road race champion Anna Shackley has been selected to contest the under-23 women's title, while Claire Steels will be making her elite world championships debut. Anna Henderson and Lizzie Holden will join the road race team as well as contesting the elite time-trial event. In the junior women's events, Izzy Sharp will be contesting the time-trial, while junior Tour of Flanders winner Cat Ferguson will be vying for her first rainbow jersey.

Great Britain Cycling Team Head Coach, Jon Norfolk said, "The road world championships are always a unique experience as we bring Grand Tour riders back into the GB squad to put on their home jersey and represent their country.

"It's great to see Grand Tour winners such as Geraint Thomas returning to where their journey started, and being part of a squad alongside the next generation of riders that are also benefitting from the GBCT performance pathway. It's inspirational to see the strength and depth across this squad and I genuinely believe we are medal competitive in every discipline.

"This year's road races will really put riders to the test on attritional and technical courses and will definitely deliver worthy winners. And on home soil, this will be ever more of a spectacle for those planning to catch a glimpse of the races across the championships."

Lizzie Deignan said, "I am delighted to be named in the squad for the Glasgow World Championships and can't wait to pull a GB jersey on again. It's always a privilege and can't be taken for granted, especially after two children and with the depth of talent we have in the women's peloton now. We have a really exciting team who I can't wait to race with. I feel like form is gradually returning after the birth of Shea in September last year, and it will be good to be back on familiar roads in Glasgow where I've had previous success at nationals and the Commonwealth Games - lots of happy memories so I look forward to returning."
Para-road
Following an impressive performance during the 2023 para-cycling road world cup series which saw the squad bring home a haul of 43 medals, the 30 riders will be looking to continue their success on the road in Scotland and bring home those coveted rainbow jerseys.

Dame Sarah Storey will have her sights on an 17th road world title as she competes as part of the the para-road squad through five days of competition in Dumfries and Galloway. The squad boasts four current world champions including the tandem pairing of Sophie Unwin and Jenny Holl, Fin Graham (MC3) and women's C1 time-trial and road race world champion Fran Brown.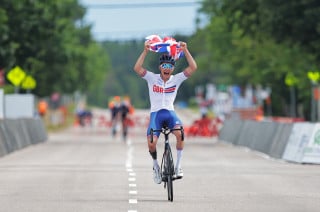 Joining them on the start line will be trike rider Felix Barrow (MT2) and world championship debutants Archie Atkinson (MC4), Amelia Cass (WC3) and Hannah Moore (WC4).

This will be the first world championships in which hand cyclists will represent GBCT in the mixed-team relay, with Claire Danson (WH3), Nick Beighton (MH5), Luke Jones (MH3) and Alex Brooke-Turner (MH4) all looking to secure historic rainbow jerseys.

The 16-time para-cycling road world champion, Dame Sarah Storey said, "I'm looking forward to racing at my first home road world championships after experiencing the amazing atmosphere in Harrogate 2019 which hosted a C1 para-cycling event. After missing last year through crash injuries, I'm excited to be back challenging for the podium."

GBCT Paralympic Performance Manager, John Lenton said, "A home road world championships is an exciting event for our riders to be involved in, as well as for the staff supporting them. So far this season, the para-cycling squad has competed at three road world cups which has seen some excellent results and we take all the positives forward into this event. The world championships presents an opportunity for us to build on this success and see the riders deliver the best performances they are capable of. It is also our biggest chance to continue collecting Paralympic qualification points on the road as we attempt to secure as many quota slots as possible for Paris 2024.

"Over recent years, a lot of hard work has been done in the Paralympic pathway to identify and nurture up and coming talent and we are now reaping the rewards of that effort. This includes the handbike and trike riders who represent an untapped area of para-cycling for Great Britain, adding additional strength and depth to our World Class Performance Programme squad."

The Great Britain Cycling Team's road and para-road cycling programmes has a proud track record of delivering world-class results, with the support of the UK Sport World Class Programme, funded by The National Lottery. Since World Class Programme funding started, the team has delivered two Olympic and 15 Paralympic champions on the road, as well as 13 road and 38 para-road world champions.
Squads in full:

Road elite men

Owain Doull
Luke Rowe
Jake Stewart
Ben Swift
Connor Swift
Josh Tarling (time-trial only)
Geraint Thomas (time-trial only)
Ben Turner
Sam Watson
Fred Wright

Road under-23 men

Josh Charlton (time-trial only)
Bob Donaldson
Lukas Nerurkar
Oliver Rees
Jack Rootkin-Gray
Callum Thornley (time-trial only)
Maximus Walker
Road junior men
Alex Beldon (road race reserve)
Matthew Brennan (road race, time-trial reserve)
Jacob Bush (time-trial only, road race reserve)
Sebastian Grindley
Ben Marsh (road race reserve)
Tomos Pattinson
Jed Smithson
Ben Wiggins (road and time-trial)


Road elite and under-23 women

Lizzie Deignan
Pfeiffer Georgi
Anna Henderson (road and time-trial)
Elizabeth Holden (road and time-trial)
Anna Shackley (U23)
Claire Steels


Road junior women
Cat Ferguson (road and time-trial)
Ella Jamieson (road race and time-trail reserve)
Carys Lloyd
Holly Ramsey (road race reserve)
Awen Roberts
Izzy Sharp (road and time-trial)
Imogen Wolff
Mixed team time-trial
Anna Shackley
Pfeiffer Georgi
Elynor Backstedt
Ethan Vernon
Dan Bigham
Ben Turner


Para-road men
Archie Atkinson (MC4)
Felix Barrow (MT2)
Nick Beighton (MH5)
Will Bjergfelt (MC5)
Alex Brooke-Turner (MH4)
Jaco Van Gass (MC3)
Fin Graham (MC3)
Luke Jones (MH3)
Matt Robertson (MC2)
Sam Ruddock (MC1)
Ryan Taylor (MC2)
Ben Watson (MC3)

Para-road women
Fran Brown (WC1)
Amelia Cass (WC3)
Claire Danson (WH3)
Hannah Moore (WC4)
Morgan Newberry (WC5)
Daphne Schrager (WC2)
Dame Sarah Storey (WC5)
Katie Toft (WC1)
Para-road tandems
Steve Bate piloted by Chris Latham
Chris McDonald piloted by Adam Duggleby
Lizzi Jordan piloted by Corrine Hall
Sophie Unwin piloted by Jenny Holl
Lora Fachie (reserve stoker)

All para-road riders will compete in their respective road race and time-trial events.