Fred Wright claimed a heroic national title after a hotly contested race under all weathers, while Pfeiffer Georgi took her second national road race title with a majestic sprint up Saltburn Bank.
Sam Watson and Anna Shackley won the under-23 titles after a tough day in the saddle, which saw riders ascend Saltburn Bank seven times in the women's race, and ten times in the men's.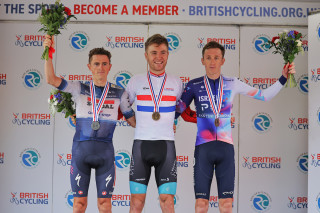 Men's race
Fred Wright had a fairytale victory on Saltburn Bank, battling heat, rain and hills to be crowned the men's national champion after finishing second two years ago.
The first lap saw plenty of attacks in a bid to reduce the peloton, forcing a front group of 20 or so riders.
On the third lap, Sean Flynn and Mark Donovan managed to drive away from the group before being caught again.
The pace of the lead group ramped up with attacks from Connor Swift and Fred Wright with 130km to go, while Ben Tullet and Ollie Wood managed to get a gap up Skelton Green climb, but were reeled back in.
As riders were picking up in the feed zone, a front group of Max Walker, Connor McGoldrick, Oliver Rees, Harrison Wood, Joshua Golliker and Donovan managed to break away from the main bunch.
The front six gained over a minute's lead, with the Trinity riders and Donovan pushing on the pace, with Donovan managing to breakaway as the other five were caught with 62km left.
Donovan pushed a minute's gap before being caught after a tremendous effort as attacks from the chasers came frequently.
Owain Doull, Wright, Connor Swift, James Knox, Sam Watson and Steven Williams broke away on Saltburn Bank, crossing the line with two laps remaining.
Wright fired over the top of Skelton Green, dropping Swift in the process to knock Ineos Grenadiers off the chance of another podium.
The penultimate time up Saltburn Bank saw Wright, Knox and Williams storm through to decide the podium places.
Williams attacked up Brotton climb, before Wright launched his ultimate solo attempt and went clear of the two riders.
Coming up to the finish for the final time, Wright checked over his shoulder three times before raising his hands to take his first national title.
Knox rolled in second and Williams took third, while a brilliant fifth place for Sam Watson saw him crowned the under-23 champion ahead of Joshua Golliker and Max Walker.
On his first senior win, Wright said:
"I still can't believe it, to be honest. I knew I had some of the best legs I've ever had today and it was so special to cross the line. I still imagined in my head, you know, 200 metres to go, 'he's going to come flying past me!'. It's being able to wear the stripy jersey and then also for the rest of my career, I'll have a little GB logo on my jersey as well. It means a lot to win this and I can't wait for the next year."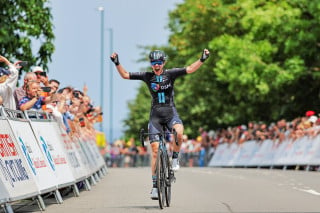 Women's race
The first two laps saw a few riders breaking away as the pace increased to splinter the peloton early on.
As the front of the peloton continued to up the pace, a group of nine including Anna Henderson, Pfeiffer Georgi, Anna Shackley, Elinor Barker, Alex Morrice, Natalie Grinczer, Claire Steels, Flora Perkins, and Sophie Wright broke away up the climb for the fourth time.
Steels attacked on Skelton Green, dropping Grinczer, Wright and Perkins, before Grinczer rejoined the group on the descent. Perkins battled on by herself, while Wright, Elynor Backstedt and Wednesday's national time-trial champion Lizzie Holden chased behind.
On the second to last lap, Georgi tested the group by attacking, with Steels straight on her wheel up Saltburn Bank, leaving the others to chase behind. Henderson, Barker and Shackley led the charge and managed to bridge the gap, with Grinczer and Morrice hanging on. Behind, Perkins was caught by the chasing group as Hayley Simmonds had managed to join.
The front group of seven slowed the pace as riders began to look at each other for podium places, with Morrice clipping her wheel on the pavement and coming off. Morrice gritted her teeth and managed to chase down the group, catching with just 10km to go.
Barker attacked on the climb up to Brotton, dropping Morrice in the process, before Shackley went for it on the descent. On the descent into Saltburn, Henderson and Shackley continued to make attacks before coming back together.
The final bend of the descent saw Georgi make her killer move with a monster attack that carried her up to Saltburn Bank.
Georgi pushed on with incredible speed, and had enough time to cross the line with her arms punching the air to take her second road race national title. Steels followed in behind to take second, as Henderson rolled in third.
Anna Shackley took the under-23 title after crossing the line in fifth position, while Flora Perkins and Elynor Backstedt came second and third respectively from the chase group.
Speaking after her win, Georgi said: "The last hundred meters when I looked behind and I saw there was no one there, I was just in disbelief and just pure happiness to pull it off again. I'm a bit shocked and was like, 'Oh, I've actually done it!'. I was feeling strong, so I just tried to keep it together and then just close my eyes, full gas up the climb, and in the end, it paid off! It feels amazing."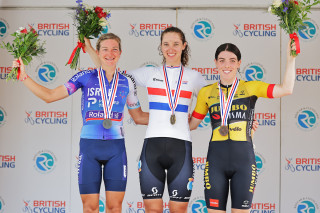 Elite women's result
1. Pfeiffer Georgi
2. Claire Steels
3. Anna Henderson
Under-23 women's result
1. Anna Shackley
2. Flora Perkins
3. Elynor Backstedt
Elite men's result
1. Fred Wright
2. James Knox
3. Stephen Williams
Under-23 men's result
1. Sam Watson
2. Joshua Golliker
3. Max Walker
Full results: