England took the honours in a clean sweep across the board at the 2023 Cycle Speedway Home Internationals after a competitive day of racing in Newport, while the South and South West secured the win in the Men's Battle of Britain.
Home Internationals
The senior race saw England take 75 points from a possible 80 to beat Wales into second place, while the veterans match and junior match also saw England storm to the wins.
Aaron Smith took a 16-point maximum in the senior match, and his teammates Ben Clarke, Chris Timms and Josh Brooke all finished their day on 15 points.
Clarke set out the stall for England with a flying opening heat, while Ben Mould, riding on his home track, got the measure of England's Timms in the following heat to win. Wales made the most of following five heats, with Mark Carmichael and Mould taking wins for Wales, but wins for Timms, Smith and Zac Payne put England just two points ahead of Wales at the halfway point.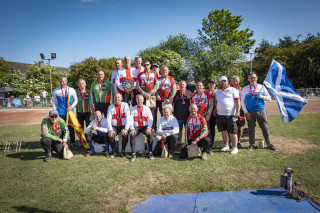 The following five heats saw England ride off grid one and take wins in all heats. Heat 12 saw a great fight between Scotland's Nathan Groves and Ireland's Jack Herbert for third and fourth.
The final five races saw England only drop a single point with Payne having no answer to Mould's speed and had to be content with second place.
Smith rounded the day off with his fourth win in the final heat to secure England the overall win.
England – 75 (Aaron Smith 16, Ben Clarke 15, Chris Timms 15, Josh Brooke 15, Zac Payne 14)
Wales - 65 (Ben Mould 15, Mark Carmichael 14, Dan Bock 12, Wil Bristowe 12, Adam Bennett 12)
Scotland – 31 (Tom Blackmore 8, Kyle Holland 8, Calum Ramsey 6, Lewis Alsop 5, Nathan Groves 4)
Ireland – 27 (Aaron Herbert 7, Jack Herbert 7, Owen Wells 6, Steve Copping 4, Patrick O'Shea 3)
The junior event saw two England teams take to the grid, with the older juniors taking the win by a slender five points from a young Lions side who should represent their country in the upcoming World Championships in Australia.
Both the Welsh and Scottish teams gave good account of themselves from the opening heat to the last. Kenzie Bennett took a fine 16 point maximum for the Young Lions, opening up his account in heat two after a feisty tussle with England's Harry Radford.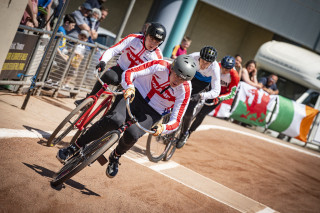 In the penultimate heat, Feroze Langoo crashed heavily and had to accept an exclusion for causing the stoppage, while Redford took the win for England from the restart.
England – 69 (Owen Geach 15 Points, Torsten Jolly 14, Ryder Jolly 14, John White 14, Harry Redford 12)
Young Lions – 64 (Kenzie Bennett 16, Leon Penketh 14, Ollie Saunders 13, Shaun Kell 12, Feroze Langoo 9)
Wales – 35 (Luis Lewis 9, Harry Marsh 8, Sam Marsh 6, Jacob Jones, Jayden Jenkins 6)
Scotland – 27 (Kaiden Davidson 9, Calan Cuthbert 6, Gareth Davies 5, Finn Crowther 4, Josh Faulkner 3)
In the veterans match, Gavin Wheeler scored a 16 point maximum to lead England to a fine win over Wales by some 14 points. Mark Westwood, representing the home nation for the 20th time rolled in top scorer with 13 points.
England – 70 (Gavin Wheeler 16, Phil Gard 15, Richard Edge 14, Steve Paver 13, Andy Yard 12)
Wales – 56 (Mark Winwood 13, Alan Nation 13, Lee Galley 12, Matt Parr 10, Darren Busby 8)
Scotland – 38 (Jason Keith 15, Joe Beckman 8, Colin Davidson 8, Stevie Crowther 7)
Ireland – 33 (Paddy Wenn 11, Steve Copping 9, Gary Colby 7, Dave Blackmore 4, Lee Ashman 2)
The women's regional pairs saw the North & Scotland pair of Emily Burgess and Laura Watson take the title for the fifth successive time.
Burgess took her first of four wins in the opening heat, only dropping a point in the fourth heat to allow Laura Watson through over the Midlands Pair of Rebekah Humphries and Georgia Burt then having the leg speed to take second place.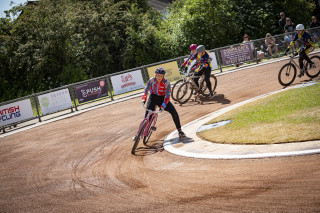 The South & South Wales team ran the winners close, with Maddie Saunders taking three wins and finishing the day on 17 points, but the North & Scotland won on 37 points. The East & Eastern region again fielded a young side who took a well deserved 27 points.
North & Scotland - 37 (Emily Burgess 23 points, Laura Watson 14)
South & South Wales – 31 (Maddie Saunders 17, Lauren Hookway 10, Rachel Lammin 4)
South East & Eastern – 27 (Lily Parr 15, Amberly Gant 10, Ella Case 2)
The Midlands – 23 (Bekkah Humphries 15, Georgia Burt 8
Men's Battle of Britain
The South & South Wales took the honours in both the senior and junior matches in a one-off Battle of Britain at East Newport's Underwood track.
Lukasz Nowacki took the win in the opening round of the senior event for the South & South Wales as his turn of speed left North & Scotland's Reece Pollitt having to chase.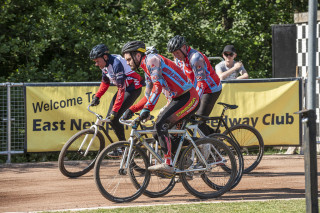 JJ Wildman (South & South Wales) took advantage of a slip by Lewis Foxley (North & Scotland) to claim the win in the following heat. Wildman took his second win of the match, holding off the challenge of Steve Harris but the North & Scotland secured drawn heats in six and seven.
The opening heat of the second half saw Harris (North & Scotland) excluded for moving at the tapes and Harry Radford had to work hard to hold off Dan Bock (South & South Wales) for second and a valuable three points for the North.
The North rallied in heat 12 as Kris Ramsden and Harry Radford took a 1-2 after Leon Penketh was excluded after crashing. The two following heats saw wins from Harris and Radford as the North & Scotland were chipping away at the South's lead.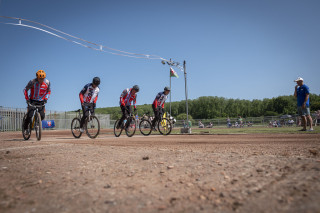 Heat 16 saw Owen Johnson take his first win of the day for the South & South Wales, and with Adam Bennett taking second place from Tom Dunphy on the final bend, the South secured a strong lead.
South & South West – 97 (Lucas Nowaki 18, JJ Wildman 17, Mark Carmichael 15, Kenzie Bennett 15, Owen Johnson 12, Adam Bennett 10, Leon Penketh 2)
North & Scotland – 77 (Reece Pollitt 19, Harry Radford 15, Lewis Foxley 14, Steve Harris 11, Mike Baldock 9, Kris Ramsten 7, Tom Dunphy 2)