The second round of the National Downhill Series saw an all-British elite men's podium as international stars headed to the UCI C1 event in Fort William.
As the host venue for the UCI Cycling World Championships later this year, riders from across the world took to the start line at the weekend, with podiums for Brits Laurie Greenland, Aimi Kenyon, and Dom Platt.
Elite
Laurie Greenland (Santa Cruz Syndicate) clocked the fastest ever time down the Fort William track with 4:25.609 to take the elite men's win against some of the best riders in the world. Greenland was joined on the podium by fellow Brits Matt Walker (Madison Saracen) and Charlie Hatton (Continental Artherton) with only half a second separating second and third place.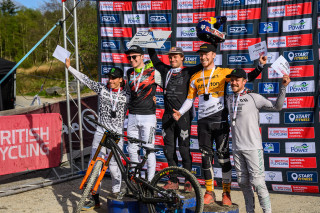 The elite women's race was a star-studded affair with World Cup riders from all over Europe in attendance, but once again it was Santa Cruz Syndicates' Nina Hoffman taking a back-to-back win after her victory in this round at last year's event. The German rider took the win ahead of Camille Balanche (DORVAL AM Commencal) in second and Monika Hrastnik (DORVAL AM Commencal) in third. Phoebe Gale (Canyon Collective FMD) was the top British woman in fifth place – a brilliant result for the first year under-23 rider.
Junior
Lisa Bouladou (X1 Racing/Commencal) came out on top in the junior women's event, with the French rider taking a convincing win 10 second faster than second place. British rider Aimi Kenyon (Pinkbike Racing) finished in second, while seasoned cross-country and cyclo-cross rider Emily Carrick-Anderson secured third on her downhill debut.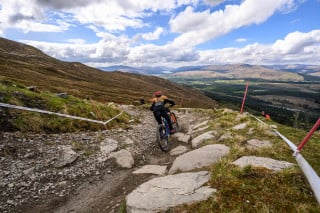 The junior men's race was another race littered with World Cup standard riders with the top five all coming from top-flight World Cup teams, but it was Canyon Collective Pirelli's Henri Kiefer who took the win and Gamux Factory Racing's Mike Huter in second. Continental Atherton's Dom Platt finished third and the top British rider.
Juvenile and youth categories
The juvenile boys' category saw Harrison Schofield (T.N.T) crowned the winner, with Reid Simpson just under three seconds back in second and Osian Morris (Blumilk.com) in third.
A combined girls' juvenile and youth field saw local rider Heather Wilson (Muc Off Young Gun) storm to victory by over 40 seconds. In second place was Rosie Mclaughlan (Wolfpax Riders), closely followed by Hollie Alderson (West Highland Wheelers), with just one-second separating second and third place.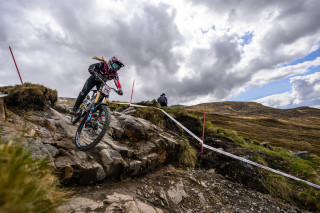 It was a very close race in the youth men's category, with Til Alran (X1 Racing/Commencal) taking the win by just 0.75 of a second ahead of George Madly (Madison Saracen) and Irishman Darragh Ryan (Biking.ie) in third.
Veteran and masters categories
It was a dominant Scottish performance in the masters men's race, with John Stout (Scottish Downhill Association) taking the win over Fraser Houston (Scottish Downhill Association) in second and Stuart Houlston in third place.
The veteran men saw Marcus Scott take the win, while Neil White came in second, and Adam Gould (INFLITE) rounding off the top three.
Alastair Maclennan (West Highland Wheelers) took the men's grand veteran win ahead of Mark Weightman and Nicholas Holling in third.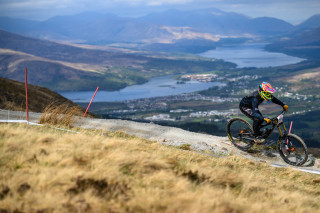 Senior, expert and open categories
In the women's open field, Amy White-Bensted took first place after bravely tackling the Fort William track on her trail bike. In second place was Vaska Prostova, and in third Tiandra Anderson.
The senior men's race saw a close battle between Charlie McIver and Finn Clark (Sorter Racegear), with McIver pinching the win by 0.3 seconds. Owen Scott rounded out the podium in third.
James Elliott (Scott Racing) took the expert men's win ahead of Lewis Carr in second and Scott Mears in third.
The third round of the National Downhill Series will see riders take to the track in Llangollen over the weekend of 8-9 July.