Jenson Young won the second round of the Under-23 Men's National Road Series after a brilliant battle in the Yorkshire U23 Classic, while a fourth-place finish for Samuel Clark crowned him the current series leader.
Young (ROKiT-SRCT) was part of a breakaway group of 13 to win the uphill sprint finish after completing the 75-mile race over nine laps on an exciting circuit, with technical descents, fast flats and sharp hills.
The race had attacks from start to finish, with a group of five forming and being caught within the first lap. Jacques Coates (Team PB Performance) and Matthew Lord (Richardsons Trek DAS) managed to get away, with Joe Shillabeer (05/03) and George Wood (Cycling Sheffield) chasing and catching on the second lap to make a leading group of four.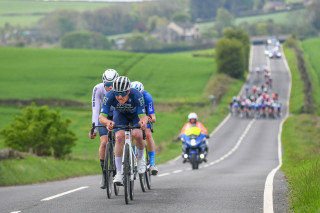 James Hartley (Cycling Sheffield), Matthew Houlberg (Embark Spirit BSS) and Matt Watson (Ride Revolution Coaching) attempted to chase down the leading four as the bunch continued to put in attacks while the gap from the leaders to the bunch grew to a minute and 25 seconds.
Breaks continued to form but were unable to stick as the peloton began to split and the leaders were cut down to just 47 seconds.
A nine-rider chasing group formed and caught the leaders to make a front group including Young, Coates, Shillabeer, Wood, Lord, Samuel Clark (trainSharp Elite), Joe Brookes (Halesowen A&CC), Matthew Fox (Wheelbase Cabtech Castelli), Joseph Smith (Private), Huw Buck-Jones (Wales Racing Academy), Ben Chilton (Ribble Collective), and John Russell (05/03).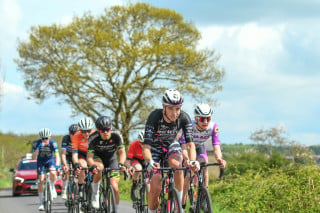 The peloton split into three as attacks still came thick and fast, but the 12-strong leaders managed to make a gap of a minute and 15 seconds with three laps remaining.
The rest of the race saw plenty of attacks and breakaways form, with Dexter Leeming-Sykes (Wold Top The Edge Pactimo) bridging over to make a 13-man leading group, which went all the way to the line.
An uphill sprint saw the riders fight for the podium places, with Young able to cross the finish line first with his arms outstretched. Shillabeer secured second place and Wood managed to take third, while a fourth-place finish for Clark saw him take the series lead on 52 points – four points ahead of Wood.
The riders will next visit Brecon, Wales for the third round of the Under-23 Men's National Road Series at the JToW U23 Men's Grand Prix on Sunday 9 July.
Under-23 Men's National Road Series standings