Kieran Reilly, Sasha Pardoe and Harry Mills-Wakley took the elite wins for the first round of the National BMX Freestyle Series at the Backyard Jam at Adrenaline Alley, Corby.
Elite park
The women's elite park category saw Sasha Pardoe take the win with multiple combinations of tricks that put her in a league of her own. A double tyre grab to no-hander and tyre grab to X-up gave her a total score of 85.75. As a UCI C1 event, Pardoe not only scored 25 points for the Backyard Series, but also 200 UCI points. Holly Pipe came in second after landing a massive 360 transfer and a backflip, scoring a 70 from the judges and 160 UCI points. Another podium regular from last year's round, Sammy Turner, took third on the podium after effortlessly flowing around the park, landing a toboggan and a 360. She scored 66.75 and 130 UCI points.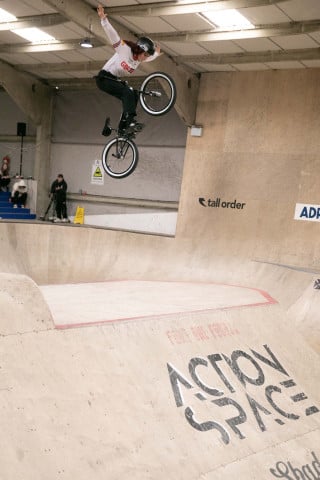 In the men's category, Kieran Reilly and Declan Brooks battled it out for first and second place, with Reilly just getting the edge after a show stopping run. Reilly pulled out a trick at almost every wall, zig-zagging his way across the park whilst laying down a 720 tail whip straight into a flawless double flair, a 360 triple tail whip, and a massive wall ride transfer, giving him a total score of 98.69 and 200 UCI points. Brooks took second, scoring 96.13 and 160 UCI points, while Miller Temple took third on the podium in his first appearance in the elite category at Backyard Jam and scored 94.13 and 130 UCI points.
Elite street
Harry Mills-Wakley took the top spot in the men's elite street category, with his fast-paced approach to the course and smooth style giving him a score of 125.33 and 25 series points, having landed a big gap to wall ride. Alex Kennedy bought his unique approach to the course with a sprocket stall to feeble 180 on the down ledge, and came in second with a score of 119.33 and Joe Jarvis in third with 114.33.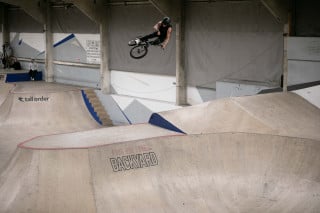 Amateur park and amateur street
The men's amateur park category shows great optimism for the future generations of park riders. Tyler Wainwright took first place with a score of 95.17 after stomping a 360 triple truck driver and a hand plant in his runs. Harry Drewitt took second place with a score of 95.17, and Finlay Gordon came in third with a score of 87.
The men's amateur street category saw a ton of energy and excitement with only a few points separating the top two finalists. Will Pearce took the top spot by landing a massive feeble to manual down the long down ledge for his best trick, as well as using the whole of the course in his run, scoring him 97.67. Lorenzo Reid took second, starting his run with a massive downside fast plant on the wall ride extension. For his best trick, he landed a massive double peg stall on the spectators viewing platform after being wiped out a few times, scoring him 97.33 and 22 series points.
In the women's street category, Aubrey Henson was crowned the winner with a 180 backwards feeble and feeble hard 180, scoring 91.33. Erin Finnigan took second place scoring 36.67.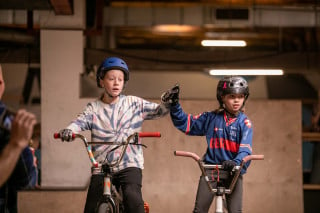 Youth categories
Ffion Pickstock won the under-15 girls' park category, with Darcie Turner in second and Amelia Flora in third. In the under-12s, it was Esme Morris who just took the win with 84.33 for first place and Millie Brooks in second with 80.33, while Maddison Dixon in third. Alex Cartmell took the win in under-9 girls' category.
The under-15 boys' category had high energy and the riders have all stepped it up a level from last year, with everyone going higher, faster and even attempting double backflips. Harrison Schofield took the win with a solid run, landing a double truck driver at the start of his run, a flip barspin and a flair to finish. Joey Doland took second and Chase Weighill took third.
In the under-12s, Lukas Kennedy took first place with Jason Urban in second and Steven Peach in third. Cruz Mccran took first place in the under-9s as Benny Jackson came in second and Oliver Baker in third.