Maurice Burton, Emma Pooley, Rebecca Romero MBE and Paul Sherwen were last night announced as the newest inductees into the British Cycling Hall of Fame, at the organisation's annual awards dinner in Manchester.
First launched in 2010 to celebrate 50 years of British Cycling, the Hall of Fame is now made up of 69 members, from riders and coaches to volunteers, event organisers and race officials who have made an outstanding contribution to cycling across all levels and disciplines.
Members of the public were invited to nominate new names for induction for the first time since 2016, with a shortlist then considered by the Hall of Fame selection panel, which was chaired by British Cycling President Bob Howden OBE and also included Dame Sarah Storey. A biography of each rider can be found below.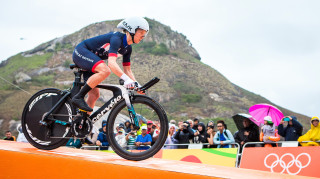 Announcing the four new additions, Howden said:
"There is no greater honour in British cycling than being inducted into the Hall of Fame, and as you can see from the current roll call of 69 members, induction is reserved for those who have made a marked impact on the history and growth of our sport.
"Exceptional champions and equally fierce campaigners for gender parity in the sport, I'm delighted to welcome Emma and Rebecca to the Hall of Fame, and as Britain's first black cycling champion Maurice is one of our sport's true pioneers, whose inspiration and legacy continues to blaze a trail for others.
"Paul's death in 2018 left a huge hole in our sport, and he is warmly remembered by millions as the voice of the Tour de France, alongside fellow Hall of Fame inductee Phil Liggett. We were delighted to welcome his sister Jane to collect his award on his behalf, and celebrate his life and contribution to the sport with many of his friends."
The awards dinner brought together more than 450 riders, volunteers and members from across the sport, including special guests Beth Shriever, Neil Fachie, Kye Whyte, and Kadeena Cox from the Great Britain Cycling Team.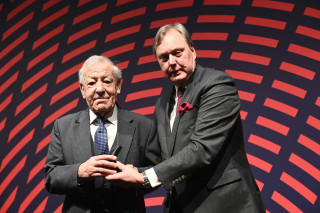 In addition to the new Hall of Fame inductees, a Gold Badge of Honour was presented to Jon Miles, for his lifelong contribution to the sport. The well-known and respected coordinator of the Women's Team Cup has played a vital role in the growth of women's cycling for more than two decades.
The four new additions to the Hall of Fame are:
Maurice Burton – A pioneer of the sport, Maurice was the first black British cycling champion. He won the junior sprint national title in 1973, and the amateur scratch title the following year. He went on to represent Britain at the 1974 Commonwealth Games before moving to Belgium to pursue a professional career. Maurice rode 56 professional Six Day events before retiring due to injury in 1984, after which he took on the running of De Ver Cycles bike shop in London.
Emma Pooley – Former professional cyclist Emma became world time-trial champion in 2010, after previously taking silver in the same event at the 2008 Olympic Games in Beijing. She has earned a plethora of international road race wins during her esteemed career, as well as two Commonwealth Games silver medals and a road world championships bronze. Emma was a founding member of Le Tour Entier, which campaigned for a Women's Tour de France and wider improvements in women's cycling. Emma now trains as a professional triathlete and duathlete.
Rebecca Romero MBE – Rebecca initially pursued a career in rowing, winning a silver medal in the 2004 Athens Olympics, before moving to cycling and winning a silver medal in her first world championships in 2007. She then bettered this by winning world titles in the individual and team pursuit events the following year. At Beijing 2008, Rebecca became the first British woman to ever compete and medal in two different sports at an Olympic Games, winning gold in the individual pursuit. She was awarded an MBE in 2009 and currently runs sports performance consultancy Romero Performance.
Paul Sherwen - Paul was an English professional cyclist who won both the National Road and National Circuit Championships in his career, as well as racing seven editions of the Tour de France. After retiring from professional cycling in 1987 he moved into broadcasting and, alongside Phil Liggett, became the voice of the Tour for viewers globally. He provided live commentary for a range of international television networks including Channel 4 and America's NBC for 33 editions of the iconic race, using his previous cycling experience to provide insight into rider tactics throughout the race. Sadly, Paul passed away in 2018.
The four new additions join the existing members of the Hall of Fame:
Reg Harris OBE, Arthur Campbell MBE, Benny Foster OBE, Beryl Burton OBE, Bill Bradley, Brian Cossavella, Chas Messenger, Eddie Soens, Jason McRoy, Tom Simpson, Alan Rushton, Barry Hoban, Brian Annable, Brian Robinson, Caroline Boyle (nee Alexander), Chris Boardman MBE, Colin Sturgess, Craig Maclean MBE, Dale Holmes, Dave Hemsley, David Baker, Dot Tilbury MBE, Eileen Gray CBE, George Miller, Gerry McDaid, Graeme Obree, Graham Webb, Hugh Porter MBE, Ian Emmerson OBE, Jason Queally MBE, John and Doreen Mallinson, John Rawnsley, Keith Butler, Les West, Malcolm Elliott, Mandy Bishop (nee Jones), Pat Adams, Paul Manning MBE, Peter Keen OBE, Peter King CBE, Phil Liggett MBE, Robert Millar, Sean Yates, Sid Barras, Stan Kite, Stuart Benstead, Tim Gould, Tony Doyle MBE, Tony Yorke OBE, Yvonne McGregor MBE, Victoria Pendleton CBE, Rob Hayles, Roger Hammond, Norman Sheil, Nicole Cooke MBE, Sir Chris Hoy, Brian Cookson OBE, Mick Bennett, Harold Nelson BEM, Bill Owen, John Barclay, Sir Dave Brailsford, Eileen Sheriden and Keith Lambert.