Ben Thomas and Amy Henchoz triumphed over 100 kilometres in 30-degree heat to take wins in the National XC Marathon Championships in Kielder Forest.
This year's National Championships were held as part of the Deadwater 100 Race, covering 100km through the brutal Kielder Forest terrain in hot sweltering weather.
The women set out first, with cross-country newcomer Amy Henchoz taking the lead early on, and stayed away for the whole race despite it being only her second ever XC Marathon. Henchoz really put in a performance deserving of her national title in her first cross-country season and was followed on the podium by Sophie Johnson in second and Christina Wiejak in third.
In the men's race, there was a strong field of contenders, both from the XC Marathon community as well as some Olympic big hitters. The pace was fierce from the get-go but soon, a pack of four were out in front.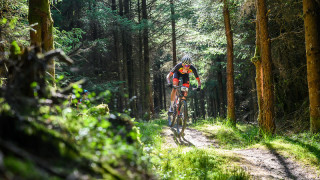 Ben Thomas' experience of XC Marathon showed, with him biding his time and waiting for his moment to strike. This came on lap three of three, where Thomas caught pack, closing a gap that was greater than 40 seconds to take the win ahead of them. Thomas was followed by Hope Factory Racing's Thomas Mein and Cameron Orr in third.
Alongside the elite two winners, there was also national champions crowned in the men's veterans over-40s field, with Marc Chamberlain taking the win, while it was Elise Sherwell who won the women's equivalent national champion title. Nick Craig won the veteran men's over-50 race, adding another national jersey to his collection.
Riders will now look forward to Round 3 of the National XC Marathon Series at the Isle of Man in October.