The fifth round of the BMX Freestyle National Series saw Sam Jones, Sasha Pardoe, Ash Finlay, and nine-year-old sensation Aubree Henson top the elite podiums in Darwen at Junction 4 Urban Sports Village at the weekend.
Youth Categories
Being spread across two days and with the multiple parks, it allowed options for indoor or outdoor categories. Jacob Marsh took the win in the 8-11 indoors category, with Mitch Hutchinson in second and Joey Starbuck in third. Billy Neil Mcvicar was first in the 8-11 outside race, while Steven Peach in second, and Seb Doyle in third. In the Youth 12-14, Alfie Crocker extended his winning streak to five, while Harry Gorman finished second.
The women's 12-14 saw a ton of energy with all the girls flying over the jump boxes and flowing around the park. Esme Morris landed a solid 360 over the box which secured her in first place with 91 points, Ffion Pickstock came in a close second with 89.67, and Millie Brooks came in third with 76.33.
Amateur Street and Amateur Park
The Amateur Street category saw a new format take place, splitting runs and best trick more evenly. Logan Foster walked away in first winning both the best tricks and the runs outright with 79.17. George Hall came in second with 66.00, and Harry Pritchard three points behind with 63.00.
In Amateur Park, Ike Duly used his flow and transfers to take his first podium of the series, coming in third with 88.67. Miller Temple put a solid run together scoring him 89.67, but couldn't quite beat Devon Low who took the win with 93 points.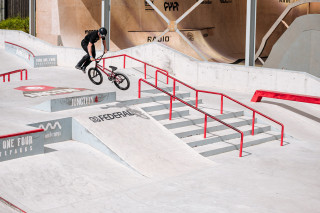 Elite Park
In the Women's Park category, Sasha Pardoe carried on her winning streak from the previous round by taking the win with a score of 89.00 after a massive 360, textbook no-handers and firing around the park at full speed. Jay Lewis took second with 87.33 after stomping a turndown over the hip as well as a 360 to fakie just before the buzzer and Kayley Ashworth took third with 84.33. New attendee Holly Pipe took fourth and also needs an honourable mention after sending some of the biggest 360's over the box in the women's category.
With the outdoor park being so new, it was a fairly even playing field for the riders. Jack Watts was looking hopeful but unfortunately crashed hard in practice just before the finals. Mike Hullock, recently off the injured bench, came back swinging and took third with 79.33. Dylan Hessey and Ash Finlay were closely scored, with just 0.33 separating them. Hessey rode with his effortless and clean textbook style, while Finlay rode with his signature flair. Each rider used the whole park with different lines being used but it was Finlay who took the win with 93.00 and Hessey in second with 92.67.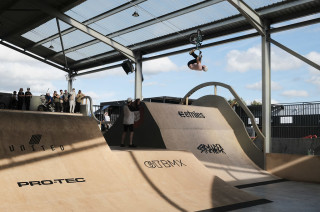 Elite Street
This round saw the first Women's Street category at Backyard Jam. With a vast range of ages competing, it was nine-year-old Aubree Henson who took the win, nailing 180 bar spins and feeble hardway 180's landing her with a finishing score of 108.33. Second was Michelle Sikorska with 60.67, and third was Sasha Pardoe with 52.33.
The men's Elite Street competition saw local Sam Jones take the win, showing his skill as one of the top street riders in the country. His three attempts at best trick saw him land three different tricks all first go, giving him 109.00 points to finish first. Harry Mills Wakley came in second with 100, and Alex Kennedy in third with 98.67.