With less than one week to go until the 2022 British National Road Championships, we look at the best young Scottish talents coming to Dumfries and Galloway, with Finn Crockett and Rebecca Saunderson ready to put on a show on home roads.
Finn Crockett may still be just 22 years old, but he will be hoping to claim a podium place in the men's road race on Sunday.
Hailing from Strathpeffer in the Highlands, Crockett is excited to be racing in his home nation on the picturesque roads near Castle Douglas and will also be looking to put down impressive performances in Thursday's time trial and Friday evening's circuit race.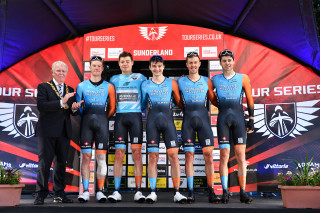 Crockett is part of the ten-strong Ribble Weldtite Pro Cycling squad that will feature in the road race, which includes the Tanfield brothers, Harry and Charlie, Alex Peters, Cameron Jeffers, and fellow Scotsman Stuart Balfour.
This season has seen Crockett claim top four wins in the Tour Series, be crowned the champion of 'Britain's Belgian Classic' – Rutland-Melton CiCLE Classic –, a third place at Lincoln GP, as well as a ninth-place finish at the Tour du Loir et Cher in France.
Crockett said: "This season's been amazing really. I couldn't have asked for a better start to the cycling season. Racing at home is always so fun. To race in Scotland is always amazing and the support is always really good. With the nationals being in Scotland, it's just extra motivation for me.
"The great thing is that we can showcase the talent that we have in Scotland. There's a lot of people in both the road race and the time trial who will feel the same that I do and have that motivation to perform. I really hope one of the Scots – if not myself! – will have a great ride.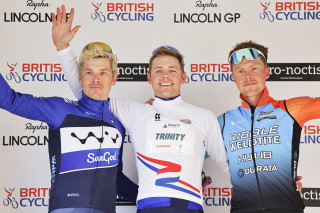 "The road race is where my heart is set. The course is good, I've done some of the roads before and they're great roads, but nationals is always such a hard race, and it's always going to be the strongest riders up there.
"But I fancy my chances, I back myself, so if it comes down to a small group and a bunch sprint, well, we'll see what happens."
Having started as a mountain biker, where he discovered his love for cycling as a 13-year-old riding in the 24-hour Strathpuffer event – which includes 17 hours of darkness –, Crockett was bound to be one of the hardiest riders the nationals has ever seen.
He added: "Nationals is a level up in a way and to have the opportunity to prove myself is what I'm most looking forward to. Fingers crossed I can perform how I have been throughout the start of the year and hopefully I can be a bit of an underdog!"
Local cyclist Rebecca Saunderson will also be looking to shake things up in the women's road race on Sunday. The 19-year-old from Crossmichael, just outside Castle Douglas, first found her love for cycling at the Sir Chris Hoy Velodrome in Glasgow and hasn't looked back since.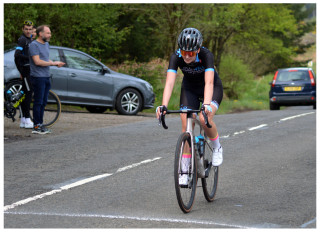 In her first year as an under-23, Saunderson is excited to be part of the road race that takes to her home roads and has much to learn from the likes of Pfeiffer Georgi, Anna Henderson and Alice Barnes, who she will be lining up with.
Saunderson has spent much of the year competing in men's races in order to prepare herself for the intensity of racing with some world class riders, and has claimed top tens in regional races, while last year saw her claim second junior in the Scottish National Road Race Championships.
Representing her local bike shop Studio Velo, Saunderson said: "I'm very excited to have nationals on my home roads. The fact that it's literally 10 minutes from my house is really exciting and it will be great to just cycle over on the day.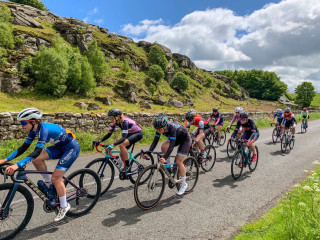 "To be able to represent my hometown is quite cool. I hope to stick in for as long as possible and it's just amazing to be racing with some of the best riders.
"Everything's happening in Scotland - we've had the Tour Series, we've got the British mountain bike champs in our region as well, and I think it will bring a lot of people together. I think it will get a lot more people out on their bikes and bring us altogether as a community."
Other Scots looking to make the podium at nationals includes John Archibald, Mark Stewart, Cameron Mason, Anna Shackley, and Jenny Holl.
The routes for the time-trial, circuit and road race championships can be found here, and full details of the riders vying for the coveted red, white and blue national champions' jerseys can be found here. British Cycling would again like to thank our event partners, Dumfries and Galloway Council and EventScotland, for their support in bringing the event to the region.