A fantastic weekend of racing on the Isle of Man saw victories for Noah Hobbs, Cat Ferguson, Dylan Sage, Mabli Phillips and Albie Jones, as riders battled it out over three gruelling stages at the Sleepwell Hotels Isle of Man Youth Tour.
Junior Boys
Noah Hobbs of TEKKERZ CC took an impressive prologue victory to open the weekend's racing, ahead of William Smith in second and Josh Tarling in third.
Hobbs then continued his perfect start in stage two, with victory also securing him a 10 second time bonus. In what was an excellent race, Zachary Walker finished second just two seconds behind Hobbs, with Alex Franks third – placing VC Londres rider Franks second on the GC going into the final stage, 16 seconds behind Hobbs.
In the final stage it was Tarling who took the win in the sprint, ahead of Hobbs in second and Matthew Cole in third. The stage victory capped off a terrific few weeks for Tarling, after his senior debut for Great Britain on the track at last weekend's UCI Track Nations Cup in Glasgow.
After taking a seven second bonus for his second place finish, Hobbs took the top step of the GC podium by a 17 second margin, with Tarling second and Walker third.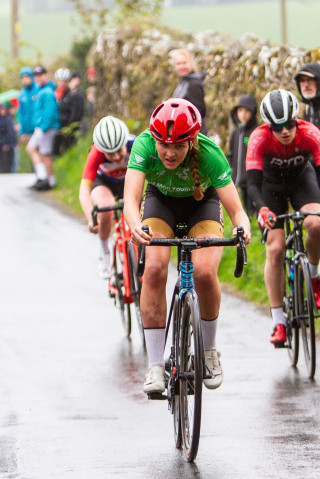 Youth A Girls
Cat Ferguson put in a dominant performance in the Youth A Girls category. In the prologue Ferguson showed her strength from early on, clocking 1:51 to put her in second position – just one second behind VC Londres' Carys Lloyd.
Saturday's hilly circuit in Ellerslie saw Ferguson make it to the top spot with an exciting sprint finish against teammate Imogen Wolff, with the pair gaining 10 and seven second time bonuses respectively. Ferguson also managed to win nine points in the points competition, while Wolff took six, to see them sit first and second in the GC going into the final stage.
This saw the riders battle a 10km road circuit, with Evelyn Field of Liverpool Cycle Circuit Academy making a significant move and gaining an 18-second advantage, before being caught by the bunch ahead of a sprint finish.
Time-trial winner Lloyd prevailed in the sprint and won a 10 second time bonus, but it wasn't enough to overhaul Ferguson, who finished fifth on the stage. Ferguson was crowned Youth A Girls champion with a nine second leadover Wolff, while Amelia Cebak of Team Milton Keynes completed the podium in third.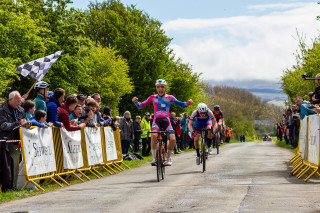 Youth A Boys
The Youth A Boys win was taken in impressive style by Dylan Sage, despite a tough start to the event.
Evolution Racing Academy's Sam Fisher took the prologue victory in 1:39, just one second quicker than North Cheshire Clarion Composite's Sebastian Grindley, while Sage finished in 26th.
Oliver Dawson broke away in stage two and gained a 17-second advantage before being caught by the peloton, and had to settle for second place behind Edinburgh RC's James Sweeney, while Sage finished eight seconds behind in 13th.
In the final stage, a fast race saw Finlay Tarling, Finlay Hawker and Grindley launch constant attacks, but Sage took the victory in a sprint finish.
Bryn Lawrence finished second in the same time, leaving Sage with a narrow three second advantage over Lawrence in the GC to take the overall victory. Harrogate Nova's Denholm Edwards finished third on the podium.
Youth B Girls
Mabli Phillips of OMVC took the GC victory in the Youth B Girls category, with a 14 second margin over Melanie Rowe in second and Phoebe Taylor in third.
Taylor performed strongly throughout the weekend, finishing second in the prologue, winning stage two and finishing eighth in a sprint finish on stage three en route to victory.
Youth B Boys
Albie Jones was the overall winner in the Youth B Boys category, ahead of Alex Coles in second and Casey Humber-Kelly in third.
Jones was fastest by four seconds in the prologue before then extending his GC lead with a commanding victory on stage two. A fourth-place finish on stage three confirmed victory for Jones, with an impressive 32-second lead over nearest challenger Coles.