The South and South Wales took a momentous win in the opening round of the Men's Battle of Britain at Ashley and Tydsley Gin Pit track on Sunday.
MEN'S BATTLE OF BRITAIN RND 1 ASTLEY & TYLDESLEY 24TH APRIL
An interesting match saw numerous gate exclusions and reruns in a challenging match for both officials and riders kept tensions high across the event, but solid performances were displayed by all four teams, with some top cycle speedway racing.
World champion Ben Mould and teammate Zac Payne ended the day as top scorers on 16 points, taking four wins from four rides to land the South and South Wales the top spot.
A spirited ride from Connor Tucker ended the day on 14 to secure the overall victory for the southern side.
The North and Scotland came home in second, five points adrift of the winners with a solid ride by Reece Polite on 14 points.
The home rider used his knowledge of the track to keep the team in contention.
The South East and Eastern squad suffered four race exclusions throughout the match, going into the interval in last place.
But the team courageously fought back and two wins from Adam Peck elevated them to third position.
It wasn't to be the best day out for the Midlands with both Chris Jewkes and Ricky Johnson walking back to the pits with a pair of exclusions apiece, but solid riding from Chris Timms and Mark Winwood kept the ship steady to end the day on 50 points.
1. South & South Wales 64 Points
2. North & Scotland 59 Points
3. South East & Eastern 53 points
4. Midlands 50 Points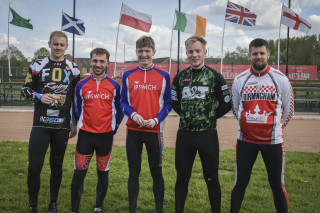 MEN'S ELITE GP
Ben Clarke put in a fine performance on Sunday afternoons Elite GP to take the overall win.
The Ipswich rider finished the day on 19 points – only dropping a single point to A&T'S Reece Pollit.
Clarke's teammate Ash Hill took second with 18 points while Pollitt rounded his day off with 17 points and a third place on the podium.
Birmingham's Chris Timms rode to a solid fourth place, with a gate exclusion in heat five folding his chances for a higher place.
Ben Mould missed his final race on the penultimate lap with a gate exclusion which saw the current world champion finish his day on 14 points and a run off with Will Bristow for the final podium place. Mould made no mistake to take the final podium spot.
1. Ben Clarke Ipswich 19 Points
2. Ash Hill Ipswich 18 Points
3. Reece Pollitt A&T 17 Points
4. Chris Timms Birmingham 15 Points
5. Ben Mould Horspath 14 Points after run off with Will Bristow