The North and Scotland took a fine win in the opening round of the Women's Battle of Britain on Saturday at Hull.
WOMENS BATTLE OF BRITAIN RND 1 HULL 23RD APRIL
As runners up in 2021 after a truncated series, the team were arguably the favourites, and fielded a strong showing of riders with the addition of Lizzie Riley.
Lucy Whitehead and Rebekah Humphries showcased an incredible display of the sport as they took 17 and 18 points each, but the team were just off the pace of Emily Burgess, fresh from her time in the velodrome.
The South and South Wales finished the day in third place but their team of three put in impressive performances and were forced to surrender points scored from an on-loan rider.
Sandra Tomborska finished the match on 23 points, only dropping a point to Burgess in heat 16 after a close race between the pair.
South East and Eastern rounded out the match with 55 points – just one point off South and South Wales – but with the return of Charlie Jane Herbert and a great showing from Lilly Parr who took wins in her opening two heats, the young group could easily be finding themselves leading the series as the season progresses.

1. The North / Scotland 64 points
2. The Midlands 58 Points
3. South and South Wales 56 points
4. South East and Eastern 55 Points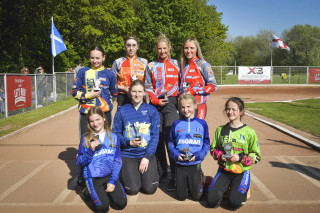 WOMENS ELITE GP RND 1
Lauren Hookway took the opening win of the series in the Elite Gp from a strong line up on Saturday afternoon.
Hookway finished her qualifying heats on 13 points alongside Sandra Tamborska and Laura Watson and took to the grid in the A final with defending champion Burgess who scored a maximum 16 to qualify.
Hookway got a good gate from the inside to take the first bend on the front as Burgess was forced to squeeze out. But Burgess fought back to tuck underneath Watson on the third lap and finish in third place, behind Tamborska and a dominant Hookway.
A crash earlier in the match between Rachael Lammin and Lucy Whitehead saw Whitehead needing medical assistance and an exclusion which all but ended her chance of qualifying the A final.
1. Lauren Hookway
2. Sandra Tamborska
3. Emily Burgess
4. Laura Watson
In the intermediate A final, Ella Case took the win from Honey Whitehead.
Amberley Gant, who qualified with 15 points, had to be content with third, while Demi Harris completed the podium in fourth.
1. Ella Case
2. Honey Whitehead
3. Amberley Gant
4. Demi Harris