Charlie Aldridge and Elena McGorum emerged victorious at the opening round of the 2022 National Cross-country Series at Parkwood, Tong.
With a shift away from last year's Covid timetable, Saturday saw a busy start to the season with the Sport Male, and Men's and Women's Open categories, plus short courses in the evening, and the return of the U12s session.
For the U12s, run by Crank It!, the sessions focussed on skills with a series of obstacles and challenges, then a razz round the short course to finish with. Judging from the grins, it all went down rather well.
Racing on the main track opened with a great battle in the Sport Male. Ethan Whiteside (Prologue) led convincingly from start to finish. In the early laps Marco Ruggeri (Rapha CC) and Michael Newton (Barnsley RC) traded places constantly, but Tom Stephenson (Lakes RC) steadily made his way up the field timing his race to perfection and outsprinting Marco for the line to take second.
In the Open Men's race, Al Griffin also led from start to finish, and then rode an extra lap as well. Lee Eaton (Team JMC) took second with Duane Stander in third. Open Women's race saw Hannah Williams (Macclesfield Wheelers) take the win from Anna Hull (East Bradford CC). Husband, Stuart, and son, Milo Hull had also raced so they picked up the spot prize for family racing supplied by Vertebrate Publishing.
The evening saw a small but very select bunch take on the short track. Evie Strachan (RR23) was given a 20 second start – her job was to keep ahead of the three lads for as long as possible. She certainly gave them a race for their money. Chasing her was Tom Couzens (Embark- Bikestrong) who took the win, Sam Howes (Sleaford Wheelers) for second, and a chilly Matt Cuthbertson (Pro Vision) in third. Evie Strachan (R23) was, of course, first.
Sunday dawned frosty but sunny. Youth and Juvenile Categories were the first off. This is always a competitive category, and of course the first race for many in a new category as they move up. In Female Juveniles Zoe Roche (WXC Racing) won convincingly with Aelwen Davies (RR23) taking second on a borrowed bike after a frame was cracked in a crash in practice. Daisy Wilkinson (Edinburgh RC) took third in a competitive race.
Racing was also fast and furious in the Juvenile Males with Curtis Mckee (Scott Quanta) taking the win, Daniel Ward (Cero - Cycle Division RT) in second, and Jacob Steed (Sherwood Pines) just outsprinting Gus Lawson (Edinburgh RC) for third. Youth Females was won convincingly by Daisy Taylor (Royal Albert CC) with Cat Ferguson (Hope) having a battle for second with Imogen Wolff (Shibden) and Bethany-Ann Jackson (WXC) still in the mix right til the end. Youth Males was another very closely fought race. Nathaniel Henderson (Hetton Hawks Cycling Club) edged ahead to take the win with Ben Coppola (Four4th) just outsprinting Alfie Davies (The Bulls) to the line.
All of the male veteran categories were together. Marc Chamberlain (Hunt Bike Wheels) led from start to finish in the Vets. Chris Buchan (Pentland Racers) had a good race to take second ahead of Jonathan Pugh (The Bulls) who had started way back in the grid and steadily worked his way through the field for third.
In the Grand Vets Nick Craig (Scott Racing) nursing a sore hand from last week rode so fast he not only won his category but was 7th in the field of vets which started a minute before him! Paul Hopkins took second from Ian Taylor (Shibden). Grant Johnson had a cracking race to win Super Vets, with Pete Harris (Pearce Cycles) in second and Roy Hunt (Team Bottecchia) in third.
Race five included all of the female categories. In the Female Elite Elena McGorum (Peebles CC) and Anna Flynn (Spectra Wiggle p/b Vitus) were out front for all of the race. It was only in the last part of the final lap that Elena managed to get away for the win. Jo Thom (Torq) could neither catch the leaders not be caught on her way to third. Jane Barr (Velocity 44 RT) was fourth with Xan Crees (Spectra Wiggle p/b Vitus) making up the top five.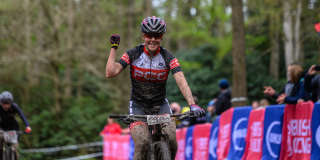 In Juniors, Emily Carrick-Anderson (T-Mo Racing) took a convincing win, leading from start to finish with Kacey Eyeington (Derwentside CC) and Christina McGorum (Peebles CC) battling for second and third. Phoebe Roche (WXC) was close behind in fourth and Beatrix Kiehlmann (Royal Albert CC) taking fifth.
In Female Experts Amy Henchoz took the win, with Christina Wiejak (Saint Piran) second and Victoria Peel (Hope) in third. In the Vets Emily Smith and Alison Kinloch (Shibden) battled for the top places with Emily finally getting away for the win. Melanie Paddington (Newdales Cycles RT) took third.
Super Vets were a little more spread out but Clare Hoskins (Cardiff JIF) won, with Jane Squires second and Lindsay Newman (Pedal Power Loughborough) third. Super Vets was won by the one and only super Carolyn Spiers (Kendal).
The Men's Elite was a really competitive race from start to finish with a group of four getting away early but slowly whittling down as the race progressed. Charlie Aldridge (Scott Racing) finally managed to get away on the last lap to take the win followed by Cameron Mason (TRINITY Road Racing) for second.
Losing touch with the leaders slightly towards the end of the race but holding on for an impressive third was Corran Carrick-Anderson (T-Mo Racing) with Joseph Blackmore (Rotor Racing) hanging onto fourth and Rory McGuire (LeslieBikeShopBikersBoutique) in fifth. An exciting race to be sure.
In the Male Juniors the first three had been incredibly close all race but it was Ben Askey (FlandersColor Galloo) who won with Huw Buck-Jones (Backstedt Bike Performance) in second and Nathan Smith (Garden Shed UK-Ribble) in third. Close racing and a close finish for those three. Max Greensill (Hope) was fourth with local rider Bjoern Koerdt (Shibden) coming fifth.
In Male Expert it was another three way battle for much of the race but Matt Lawton (Macclesfield Wheelers) took the win ahead of Sam Sayers and Flynn Gregory (Derby Mercury RC).
Overall, a great weekend of racing, and a stunning start to the season. Thanks to Ian Spencer and the Shibden crew for putting on the race with much help from Hope in the stunning ground of Parkwood. Thanks to all who volunteered and those who helped in any and all ways. Thanks to support from Schwalbe Tyres and Vertebrate Publishing (www.adventurebooks.com) for the series support.