Declan Brooks dropped never-before seen tricks at Backyard Jam, with a double backflip and a superman frontflip, to win the opening round of the 2022 BMX Freestyle National Series.
Saturday 9th April saw the start of the Backyard Jam BMX Freestyle National Series, kicking off at The Asylum Skatepark, Sutton-in-Ashfield.
This massive skatepark is a second home to the Great Britain Cycling Team BMX Freestyle squad, but also caters to riders of every skill level – from learning to navigate your first ramp, to developing world class tricks.
The day started off with the 'little rippers' category with riders up to the age of 7 years old competing, offering a look into the potential future generations of freestyle BMX. The same can be said for the 8-11 category, which was won by Billy-Neil Mcvicar, a previous Backyard Jam rider who is developing one of the biggest airs in this category. Joey Doland took second place with a consistently smooth style – definitely one to look out for in the future.
Sixteen year-old Reef Way came out blazing for both of his runs in amateur park, lacing a trick in nearly every air including the boxes both ways, showing the level of his bike control with double whips (including 540 and 360 whips). However, it was the 360 tailwhip to barspin for his best trick that really made him stand out from the others.
Devon Low took second with a 360 triple barspin for best trick, to which the crowd went wild, whilst Asylum local Mitch Dooley threw down a massive 360 double tailwhip securing him third.
Am Street was won by Andy Kay, who not only threw down multiple combo tricks throughout his run but also landed his best trick first go – a double peg grind up the kinked rail to tailwhip, something the judges were clearly impressed by.
Elite Street
In Elite Street there was a mix of seasoned professional riders, previous Backyard Jam Amateur winners and the next generation of pro riders in the making.
Harry Mills-Wakley walked away with the win with two solid runs, both of which were high speed with no bails. The difference in speed and aggression for Harry's runs was impressive, which included perfectly executed combo grinds.
Elite Park
Coming into the finals all the riders knew they needed to step It up from qualifying to stand out for maximum points from the judges.
The women's class was won by Olympic gold medallist Charlotte Worthington, setting a high bar for the future rounds of the series. Sasha Pardoe came in second – hot on the heels of Charlotte – which will make for an interesting season.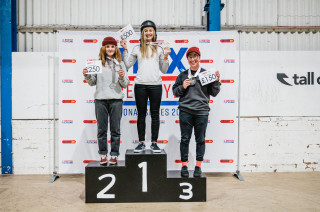 In the men's class, Kieran Reilly qualified in first position but wasn't able to keep hold of the place due to a bike malfunction on his second run.
Declan Brooks showed everyone what got him the Olympic Bronze medal by throwing down a solid run, dropping a double backflip and a superman frontflip in the same run – a first for the Backyard Jam!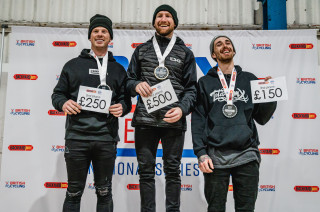 James Jones took second place, starting his run with a flair drop in and keeping enough sped to come straight back with a barspin flair to no hander.
Jack Watts took third with a run full of original tricks including a backflip double tailwhip, a 360 super-Indian and finishing with a 540 flip just before the buzzer.
The Backyard Jam BMX Freestyle National Series continues next month at Rampworld, Cardiff on May 14th.