In a nail-biting finish, Oscar Nilsson Julien took the Men's National Omnium Championship title, following an action-packed day of racing that saw the overall winner decided by just one point. A strong performance saw Sophie Lewis take the women's title at Derby Arena on Saturday, as she battled it out with second place, Neah Evans.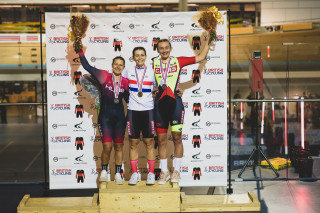 Despite a robust performance by Mark Stewart, including a first-place finish in the opening scratch, Nilsson Julien fought back with stunning results in the tempo and points races.
Having come fifth in the opening scratch race, Nilsson Julien worked with Stewart to thwart a group of riders, headed by William Perrett, attempting to gain a lap on the field. Nilsson Julien finished the tempo race with nine points, five ahead of Stewart and Perrett, in second and third place respectively.
Although the elimination race didn't go to plan for Nilsson Julien, coming out earlier than he'd hoped, the final race of the evening was where he set to serious work. Having gone in at fourth place overall, Nilsson Julien came out the 90-lap point race triumphant, having chased points consistently throughout the fast-paced riding.
Despite a stellar effort from Stewart to protect his lead, Nilsson Julien proved determined, scoring points in eight of the ten sprints. In the end, Stewart's lead, which he'd held for the majority of the day, was snatched by Nilsson Julien who edged the overall victory by one point.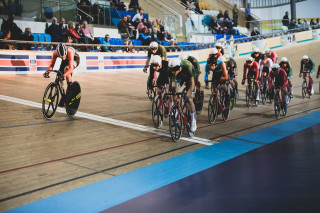 Speaking after the podium presentation, Nilsson Julien said:
"I'm really happy. It was tough but great. Especially as Mark was here to push us all. He was on a mega level, so to beat him at the end makes the day really good.
On the decisive points race, Nilsson Julien said:
"In that devil, I got pretty annoyed when I came out a bit early [but] I knew the last race would suit me, so from the start I took it on and made sure it was a tough race for everyone else as well. In the end, I just had the legs to keep it going."
"It was exactly how I planned to be fair. I went into it thinking 'I could get a win out of this', so from the start I was chasing all the points. Then at the end, it was so close, but I knew I had so much gas left in the tank so I went all in."
Lewis opened her omnium, with a second place in the women's scratch race, while Evans rode to victory, but it was in the tempo race that Lewis began her upwards climb to first place. Starting off strong, Lewis took the opening points and then worked together with Evans, Anna Morris and Maddie Leech to gain a lap on the field.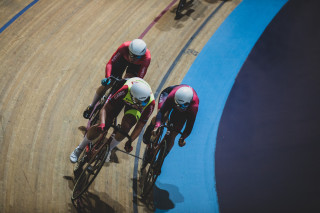 Finishing with 28 points, Lewis found herself two points ahead of Evans, and four ahead of Morris in third place. A stunning victory in the elimination race meant Lewis took a ten-point lead over Evans into the evening session's points race.
Success followed for Lewis in the points race with a powerful performance that cemented the overall win. Scoring in six of the eight sprints on offer, Lewis also bagged ten points in the final lap. Finishing with 143 points in total, she was 21 points clear of Evans and Leech who took second and third place respectively.
A sublime display in the points race by Leech, saw the Cams-Basso rider snatch sprint wins throughout the racing, to edge ever closer to Evans' second place.
Speaking after the podium, Lewis said:
"I didn't think I'd win today. [It was] pretty brutal but I feel it got better with each race that went on. The points race was pretty tight at the top end. It was pretty full gas for the whole 60 laps."
Commenting on her third place, Leech said:
"It was nice to be back racing, because of Covid last year, we missed out a bit, so it's just nice to be back doing an omnium [and] hard racing against friends. I didn't know what to expect coming here, but I just raced the best that I could and used some tactics and, yeah, came third."