British Cycling can today confirm that Jan van Eijden will leave his role as a Great Britain Cycling Team coach to take up a role with the German Cycling Federation.
Van Eijden, a two-time world champion with Germany, joined British Cycling in 2006 and has worked with some of British Cycling's most successful riders including Sir Chris Hoy, Vicky Pendleton, Becky James and Jason Kenny.
Performance Director Stephen Park said: "Jan has made an extraordinary contribution to British Cycling over 15 years, having coached some of our most successful sprinters. He has also been a fantastic team-mate and supportive colleague. He will, of course, leave with our thanks and best wishes for the future.
"Jan's departure will now be incorporated in our planning post-Tokyo as we build towards Paris and continue to ensure we are excellently prepared to support talented British riders to achieve their potential.
"Naturally his move to work with the German team means there are some things we will not be able to share with him in the future, but he will always be welcomed at the National Cycling Centre as a friend of British Cycling."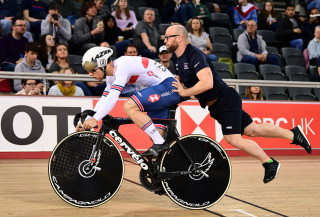 Van Eijden said: "I have had an amazing time at British Cycling, and I want to thank riders, colleagues and my friends for making my time at British Cycling unforgettable.
"I was privileged to be part of the best cycling team over the last 15 years. As I move on to a new challenge, I will look forward to seeing my old friends back at the velodromes around the world."