Crisp autumn air and bright sunshine greeted the riders assembled in Stamfordham, Northumberland as they lined up to take on the Curlew Cup, this year's final round of the Women's HSBC UK | National Road Series.
Following a season that has seen her win the first round of the HSBC UK | National Road Series, take second in the prestigious Rás na mBan, and make her WorldTour debut with women's UCI Continental Team, TIBCO - Silicon Valley Bank, Abi Smith proved strongest yet again. Charlotte Berry (Pro-Noctis - Redchilli Bikes - Heidi Kjeldsen) and April Tacey (Drops-Le Col supported by Tempur) would stand alongside her on the podium.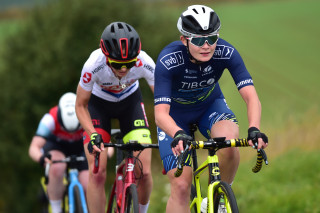 The race started fast, but there was a sense that riders wanted to keep their powder dry before the main climb of the day; the Ryals would be tackled twice, rising in steps for 2.7km and reaching a maximum gradient of 20%.
Illi Gardner (CAMS-Basso), led over the climb. Her attack would lengthen the peloton into one long line and pull a small group clear including her teammate and series leader for the day, Natalie Grinczer, and Eilidh Shaw (Tofauti Everyone Active). The group held a small gap in front of the chasing peloton, but a strong headwind was against them and the catch was made a few kilometers later.
The diminished peloton remained active for the remainder of the 40km lap until the second ascent of the Ryals. Again a small group went clear, again led by Gardner and Grinczer, and again they would be caught, this time with 25km to go.
The high pace in the closing kilometers deterred serious attacks, and a bunch sprint looked certain. Coming into Stamfordham for the final time, Abi Smith opened up her sprint early, holding off late accelerations from Charlotte Berry and April Tacey to win by a bike length.
Coming into the Sunday's race, four riders sat at the top of the HSBC UK | National Road Series on equal points - one of whom was Abi Smith - and victory on the day secured the overall win in the individual standings as well.
In the team standings, Pro-Noctis - Redchilli Bikes - Heidi Kjeldsen would leapfrog CAMS-Basso after the former placed two riders in the top ten, while the best placed CAMS-Basso rider was Natalie Grinczer in 9th.
Curlew Cup
1. Abi Smith (Team TIBCO-Silicon Valley Bank)
2. Charlotte Berry (Pro-Noctis - Redchilli Bikes - Heidi Kjeldsen)
3. April Tacey (Drops-Le Col supported by Tempur)
Women's HSBC UK | National Road Series, individual standings
1. Abi Smith (Team TIBCO-Silicon Valley Bank)
2. April Tacey (Drops-Le Col supported by Tempur)
3. Natalie Grinczer (CAMS-Basso)
Women's HSBC UK | National Road Series, team standings
1. Pro-Noctis - Redchilli Bikes - Heidi Kjeldsen
2. CAMS-Basso
3. AWOL O'Shea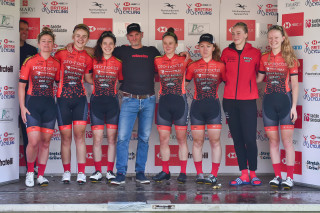 Women's HSBC UK | National Road Series, U23 standings
1. Abi Smith (Team TIBCO-Silicon Valley Bank)
2. April Tacey (Drops-Le Col supported by Tempur)
3. Corinne Side (Pro-Noctis - Redchilli Bikes - Heidi K)