British Cycling is pleased to today announce the 44 riders that will represent Great Britain at this month's UCI Mountain Bike World Championships in Val di Sole, Italy, from 25 – 29 August.
The event will see rainbow jerseys awarded in the cross-country, downhill, four-cross and E-MTB disciplines, and Great Britain will be hoping to build on its impressive performance at the 2020 championships, in which the team finished second in the medal table with three gold, one silver and one bronze medal.
Cross-country
Fresh from becoming Britain's most successful female mountain biker at an Olympic Games, Evie Richards is set to represent Great Britain once again as part of the 13-strong team selected for the cross-country races. Joining her in the elite women's race will be Annie Last and Isla Short.
In the under-23 events, the 2019 junior world champion Charlie Aldridge will compete, as will Cam Orr and Harry Birchill, while Anna Kay and Harriet Harnden will compete in the women's event. Corran Carrick-Anderson, Joe Blackmore and Nathan Smith will contest the junior men's event, while Elena McGorum and Ella MacLean-Howell will line-up in the junior women's race.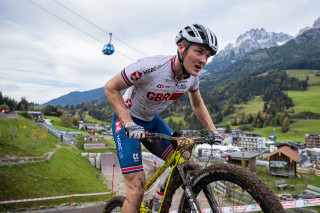 Stephen Park, Performance Director for the Great Britain Cycling Team, said:
"Thanks to the fantastic performances by both Evie and Tom Pidcock at the Olympic Games, mountain bike is firmly on the British public's radar, and this gives the team an extra boost as we approach this year's world championships.
"Evie will be carrying with her the momentum she built for the Games, and I think we can expect to see some strong performances from other members of the team across the categories too, with their training targeted to this race.
"I'll also be looking for the junior and under-23 riders to make the most of being teammates with Evie, and indeed Annie Last who has a history of major event race results to her name. These world championships will offer an invaluable development opportunity to these riders."
Evie Richards added:
"I'm really looking forward to competing at the world championships. Tokyo was such a fantastic experience and it was great to have the opportunity to raise the profile of mountain biking, especially as Tom and I did so well out there. Since I got back, I have been able to re-focus and I'm ready to race again in Val di Sole."
Downhill
Current world champion, Reece Wilson, will look to defend his rainbow jersey in Val di Sole, while the 2019 Val di Sole downhill world cup winner Laurie Greenland and two-time world champion and reigning national champion Danny Hart have also been selected for the elite men's race. Matt Walker, Greg Williamson, Bernard Kerr, Charlie Hatton and Joe Breeden complete the elite men's squad.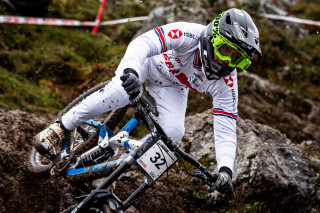 In the elite women's race, Tahnée Seagrave, who has two world championship silver medals to her name, will once again line up for Great Britain, alongside Mikayla Parton, Stacey Fisher and Katherine Sharp.
In the junior women's event, Phoebe Gale will look to continue her exciting form after recent national championship and world cup wins. The junior men's team will be made up of overall junior world cup winner from 2020, Ethan Craik, along with recently-crowned European champion Jordan Williams. Dennis Luffman, William Brodie, Preston Williams, Jack Piercy, Ryan Brannen and Connor Smith complete the junior men's team.
Four-cross
In the elite men's 4X race, Scott Beaumont, Elliott Heap, Connor Hudson, Charlie Currie, Zac Hudson, Will Evans and Daniel Wagstaff will all take to the start line, where Heap will be looking to improve on the silver medal he won at the Val di Sole 4X world championships in 2019.
Josie McFall, who has looked impressive in this year's 4X national series events, will be the sole British entrant in the women's race.
British Cycling's Mountain Bike Downhill and Four-Cross Co-ordinator, Michael Vickers, said:
"The world championships is undoubtedly a highlight of the racing calendar, and with so many podium contenders in the squad I'm looking forward to a brilliant five days of racing.
"It's been brilliant to watch the emergence of a new and exciting generation of riders over recent years, culminating in Great Britain taking six of the top 11 places in the junior men's downhill event at last year's world championships. With the new long-term plan for the gravity disciplines we announced earlier this year and the expansion of our talent development hub activities, the future is incredibly bright."
E-MTB Cross-Country
Tracy Moseley will be joined by Karen Pepper and Harriet Harnden in the E-MTB Cross-Country discipline. The riders will be looking to build on Great Britain's first world championships medal in the discipline in 2020, secured by Tom Pidcock.
Full rider list:
Cross-country
Elite Women
Annie Last
Evie Richards
Isla Short
Under-23 Men
Charlie Aldridge
Harry Birchill
Cam Orr

Under-23 Women
Harriet Harnden
Anna Kay

Junior Men
Joe Blackmore
Corran Carrick-Anderson
Nathan Smith
Junior Women
Ella Maclean-Howell
Elena McGorum
Four-cross
Elite Women
Josie McFall
Elite Men
Scott Beaumont
Charlie Currie
Will Evans
Elliott Heap
Connor Hudson
Zac Hudson
Daniel Wagstaff
Downhill
Junior Women
Phoebe Gale
Junior Men
Ryan Brannen
William Brodie
Ethan Craik
Dennis Luffman
Jack Piercy
Connor Smith
Jordan Williams
Preston Williams
Elite Women
Stacey Fisher
Mikayla Parton
Tahnée Seagrave
Katherine Sharp
Elite Men
Joe Breeden
Laurie Greenland
Danny Hart
Charlie Hatton
Bernard Kerr
Matt Walker
Greg Williamson
Reece Wilson
E-MTB
Women
Harriet Harnden
Tracy Moseley
Karen Pepper