Harthill Adventure Park, Cheshire, played host to the HSBC UK | National 4X Series this bank holiday weekend with 123 riders battling it out on the popular track to come out on top.
Round 1
Practice started early on and gave the riders the chance to learn the track. Prior to Moto, a one minute clap took place in memory of Andrew 'Coop' Cooper. Coops was the voice of 4X, with his legendary enthusiasm being the soundtrack to so many events.
With each rider racing 3 Motos and then Quarter, Semi and Final runs, there was plenty of track time for everyone with some breath-taking handlebar to handlebar racing up and down the fields. Just over half of the field were under 18s, many of which we racing for the first time ever. 4X once again showed it truly has something to offer to everyone.
In the women's elite field Josie McFall completed a clean sweep winning all of her Motos and going on to win the elite women's final. Although there were many stand out performances, our highlight of the day was Zac Hudson taking his first ever Elite 4X win, with a breathtaking last ditch pass to take the win by inches on the line.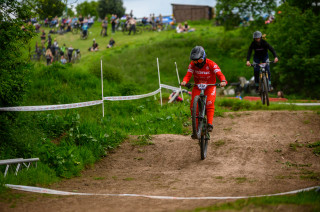 Elite Women
1st Josie McFall
2nd Isabelle Leyshon
3rd Hannah Escott
4th Keira Stretch
5th Sophie Cade
Elite Men
1st Zac Hudson
2nd Scott Beaumont
3rd Kingsley Mears
4th Nigel Page
5th Charles Currie
Round 2
The sun was on full display for Round 2, and this caused havoc on the track. Previously damp and sticky berms became sandy banks, causing many a wash out and calling an end to several of the 103 rider's races too early. Thankfully most were able to get back up, brush themselves down and an exciting day of competition ensued.
In a similar layout to Round 1, the day began with practice, although many riders chose to give this a miss to ensure they didn't burn out too soon as the day got progressively warmer. 3 rounds of Motos followed with a number of riders not completing their full runs due to crashes or mechanical issues.
Bike setup was critical, with many chains and tyres not able to handle the change in conditions. Quarters, semis and finals rounded off the day in tremendous fashion with even the 8-9 Fun Riders showing us how it's done on the pro-line jumps.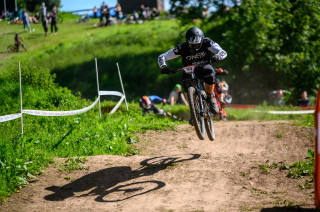 In the Elite Women's Field, Josie McFall stormed to victory with time to spare, a truly flawless bank holiday weekend with the Northern Club Rider completing a clean sweep of victories over the two days. The Elite Men's races saw Charles Currie smash his way into first place and he celebrated in style having his first crash of the day crossing the line – meaning debut winners in both Round 1 and Round 2 of the Elite Men's series.
Elite Women
1st Josie McFall
2nd Megan Kirby
3rd Isabella Leyshon
4th Sophie Cade
5th Keira Stretch
Elite Men
1st Charles Currie
2nd Ben Jones
3rd Dan Wagstaff
4th Zac Hudson
5th Kingsley Mears