Following a meeting with Sport England and other national governing bodies yesterday, British Cycling is now pleased to publish information related to its plans for a return to sanctioned activities and events in England under The Way Forward framework established in June last year.
With a number of details still to be confirmed, this information will remain subject to change as British Cycling works to manage a safe and responsible return for our activities, however, the organisation is keen to share as much detail as possible to support our clubs, volunteers, event organisers and other stakeholders in their planning. We are also continuing to support our colleagues at Scottish Cycling and Welsh Cycling, as they work with the devolved administrations in Scotland and Wales.
We are expecting to receive definitive guidance for grassroots sport from Sport England and the Department for Digital, Culture, Media and Sport on the week commencing Monday 22 March. There remains uncertainty in a number of key areas including travel restrictions, indoor activity, spectating and facility use, and a full suite of revised guidance documents will be published once these details have been confirmed. However, with the information available, British Cycling is pleased to now be able to map out the likely stages of a return to activity in the section below.
British Cycling's Cycling Delivery Director, Dani Every, said:
"We are working hard now, as we have been throughout the Covid-19 pandemic, to enable a safe and responsible return to sanctioned activities as soon as we are able, while also looking after the health and wellbeing of all involved.
"Like everybody in the cycling community, we are excited to get back to racing, riding with friends, coaching sessions and challenging ourselves, and fortunately the firm foundations we laid in developing The Way Forward guidance and practical experience of delivering events and activities last year means that we are in a strong position looking ahead to the spring and summer.
"While we know that certain challenges remain, particularly in securing local permissions for road racing and Covid-secure uplift facilities in downhill mountain biking, we are working hard alongside our discipline commissions and other key stakeholder groups to find solutions. We remain confident that we can reintroduce these events over the coming months, and hope to deliver test events at Steps 2 and 3 of the roadmap, planning for which is currently well underway.
"We thank the Government for their support in enabling certain cycling activities to continue during the pandemic, by maintaining the elite sport exemption and enabling individuals, households and pairs to ride together, and now look forward to beginning the process of rebuilding the grassroots of our sport."
British Cycling roadmap
The guidance we are publishing today has been created following confirmation that all British Cycling-sanctioned activity in England falls under the UK Government's definition of organised sport, provided that all involved follow the relevant Covid-secure protocols. Informal activity – such as going for a bike ride with friends – will remain subject to the Government's general guidance on exercise and social distancing.
Step 1
From March 8
Under-18 and school sport as part of education provision and wraparound care.
People can leave their house to cycle alone, within their household bubble or with one other person.
From March 29
British Cycling-affiliated Club rides or recreation programme rides for up to 15 participants (or limited to relevant leader/rider ratios), on highways, trails and tracks.
Outdoor coach-led club training and coaching for all ages. Numbers to be determined by a coach's qualification.
Indoor coaching for educational purposes (including wraparound care) and disabled people, subject to facility access.
Outdoor club, local and regional competition and challenge events, such as sportives, across a range of disciplines. This will be subject to guidance set out in The Way Forward.
Indoor competition for disabled people, subject to facility access.
Private provision of education courses limited to six people, delivered outdoors.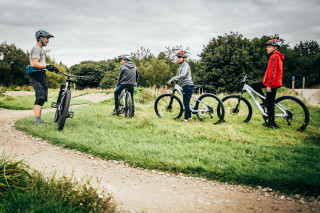 Step 2
From 12 April at the earliest:
Outdoor regional and some national competition and challenge events across a range of disciplines, including pilots for road racing and downhill mountain bike events with uplift.
Indoor club, coaching and competition activity resumes for under-18s.
British Cycling education course delivery, subject to facility access.
Step 3
From 17 May at the earliest:
Recreational group and club riding in any number (or limited to relevant leader/rider ratios), on highways, trails and tracks.
Indoor and outdoor coach-led club training and coaching for all ages.
Indoor regional and national competition all ages.
Step 4
From 21 June at the earliest:
All activity to resume.

Restrictions at this stage TBC.
National-level events
Due to the roadmap set out above and uncertainty facing event organisers, a number of national events which were set to take place in April, May and June have now been either postponed or cancelled, and our team continues to work with event organisers to find alternative dates for those looking to reschedule.
With restrictions loosening as we progress through the Government's roadmap, we are hopeful that we will be able to deliver a full and healthy calendar of national events across the disciplines in the second half of the year.
British Cycling also remains committed to delivering the 2021 HSBC UK | National Road Championships, however the dates in the Government's roadmap present some significant challenges for the current June date and we are continuing to explore all options. A further update will be provided in due course.
Events postponed with a view to rescheduling:
HSBC UK | BMX National Series Rounds 1 & 2, Birmingham, 10-11 April
HSBC UK | BMX National Series Round 3 & 4, Cumbernauld, 15-16 May
HSBC UK | National Downhill Series Round 1, Antur Stiniog, 17-18 April
HSBC UK | National Cross-Country Series Round 1, 17-18 April
Junior Men's and Women's National Road Series Round 3, Loughborough, 8 May
Junior Men's National Road Series Round 4 (Cadence), South Wales, 16 May
HSBC UK | National Downhill Series Round 2, Fort William, 8-9 May
National Masters Track Championships, Newport, 24-27 June
Events which have sadly been cancelled:
National Track Series, Portsmouth Easter Open, 3 April
Cycle speedway Battle of Britain and HSBC UK | Elite GP Round 1, Exeter, 17-18 April
Group riding
In the second part of Step 1 of the roadmap, which is currently due to commence from 29 March, formally organised outdoor sport and physical activity is able to restart and will not be subject to the 'Rule of Six' gatherings limit. As a result of this, British Cycling is pleased to say that at this stage our sanctioned club and recreation programme rides will be able to take place in groups of up to 15 people (while still adhering to any relevant leader/rider ratios).
Riders will be required to maintain a 'one metre plus' distance from others, and follow other relevant guidance on hygiene, self-sufficiency and equipment sharing. These details will be confirmed within the revised The Way Forward documents. Clubs and groups which do not feel confident or comfortable riding in groups of 15 at this stage are permitted and encouraged to set a lower limit which is appropriate for their own circumstances, and we will be providing additional resources to support leaders, clubs and groups that require it.
While we know that group riding presents a very low risk of transmission (due to it taking place outdoors, with very limited face-to-face contact), we must remain mindful of the wider public's understandable concerns around Covid-19 and ensure that all clubs and groups respect and adhere to the relevant Covid-secure guidance for safe delivery.
First Aid
Later this week we will be making a further announcement on First Aid qualifications, including support for those who would like to undertake online refresher training. Details of this will be sent directly to qualification holders and shared through the British Cycling website and social media channels.