Following consultation with teams and riders, and the introduction of new rules from the Department for Digital, Culture, Media and Sport (DCMS), British Cycling can today announce an update to its process for the awarding of elite status to riders and team personnel.
Throughout the pandemic British Cycling has at all times sought to play our part in protecting public health while still supporting the development and ambitions of the country's most talented riders where we can. Our belief is that the criteria we have established are a responsible interpretation of the DCMS regulations, which recognises the significance of international travel for our sport.
British Cycling staff and riders, our domestic UCI teams, and British riders for non-British UCI teams each understand that the awarding of elite status is a privilege at a time when the country is subject to strict limitations on travel, and we are thankful to colleagues in DCMS for their continued work to advocate for and protect the elite status exemption during this time.
Update: Please also note that as of 20 February 2021, any individual provided with an exemption from quarantine will be required to self isolate for 10 days, except when training and/ or competing.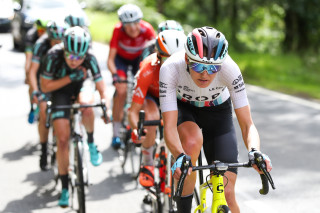 Criteria for attaining elite status
Possession of an elite status letter, issued by British Cycling, can enable riders or ancillary support staff to feel comfortable conducting their training in the UK, to access facilities in some circumstances, or to leave the country for reasons specified in the section below (if accepted by a foreign embassy).
Teams and riders should be aware of the distinction between an elite status letter and an exemption from quarantine letter. For more information on quarantine exemption, click here.
To be awarded an elite status letter, in summary, individuals must meet one or more of the following criteria:
1. Be able to evidence that they earn a living from competing in cycling. British Cycling will require written evidence of remuneration in excess of £13,500, the minimum salary for UCI Women's WorldTour team riders, in the form of a contract between the applicant and their team (or sponsor, World Class programme, or other relevant cycling source); or
2. Be representing the Great Britain Cycling Team or be a Senior Representative of a UCI licensed team (which in itself demonstrates the potential to represent the Great Britain Cycling Team); or
3. Be able to evidence that they are supporting an individual who satisfies the definition of 'domestic elite sportsperson' (as summarised in points 1-2).
Under the current guidelines from DCMS we are unfortunately unable to provide elite status letters to junior riders, aside from those on an elite development pathway with the Great Britain Cycling Team.
We know that this will be frustrating to riders and parents, however we hope to be able to support these riders to resume competition overseas in the near future, while also navigating the new challenges posed by Britain's exit from the European Union, and in the meantime we are working incredibly hard to ensure that we can restart domestic competition as soon as Government guidance allows.
Changes to DCMS rules on elite status
On Thursday 11 February, DCMS announced a tightening of the rules on overseas travel for elite status holders, and an increase in the transparency and monitoring procedures which NGBs must follow in its administration. The new rules on elite status exemptions in England permit the following:
Travel to international competitions for qualifying riders and their ancillary support.
Travel overseas for training purposes for qualifying riders and their ancillary support, but only for those training for the Tokyo Olympic and Paralympic Games.
Under the new Government rules, we can no longer provide an elite status exemption for the following purposes:
Travel overseas for training for domestic elite sportspersons not training for the Tokyo Olympic and Paralympic Games.
Travel for multinational ancillary sportspersons (e.g.coaches) if they are supporting a rider who is not a domestic elite sportsperson (i.e. a qualifying rider resident in the UK).
British Cycling is now required to report on the number of exemptions which we have granted at regular intervals.
British Cycling's Cycling Delivery Director, Dani Every, said:
"I am pleased that we are today able to publish this update following a period of consultation with teams and riders. This collective approach represents the shared responsibility which we all have to support the national effort against Covid-19, acknowledging the privileged status which elite sport continues to enjoy in these challenging times.
"There are a number of unique factors to cycling which make this such a vitally important issue – namely the necessity of overseas travel and the financial arrangements of a number of our domestic riders – and we believe that this approach enables us to sensibly address these challenges while continuing to support the country's best riders to achieve their performance ambitions."
British Cycling Performance Director, Stephen Park, said:
"As we enter the final stages of our preparations for the Tokyo Olympic and Paralympic Games, it's vital that our riders are able prepare through training and racing both overseas and domestically. We're incredibly thankful to colleagues at DCMS, UK Sport and our training facility partners for their ongoing support for both the team and elite sport more widely in an incredibly difficult period, giving our riders the best possible chance to perform at their very best come the Games."
Bob Varney, Team Director of Drops-Le Col supported by TEMPUR, said:
"I am hugely relieved that we have been able to find a collective solution to the extremely challenging demands and responsibilities - quite rightly placed on Elite sports teams - to participate on an international stage during these unprecedented times.
"We know we are in a privileged position and have embraced the trust placed in us by employing a suitably qualified Team Doctor and putting in place very strict Covid protocols. Developing British riders and staff to world tour level is in our DNA and having the support of British Cycling and the DCMS to join our colleagues in the International peloton this spring is essential for that development."
British Cycling yesterday published guidance for riders and teams on the impact of the United Kingdom's exit from the European Union. This can be viewed on the British Cycling website.
Separate information provided by sportscotland to support Scottish Governing Bodies can be found here.