In February 2021 we announced our first external Diversity and Inclusion Advisory Group, as part of our long-term strategy to tackle the diversity and inclusion gap in cycling and ensure that the sport is truly reflective of Britain's communities.
Bringing together 14 experts from a variety of industries and backgrounds, the Diversity and Inclusion Advisory Group will be responsible for tracking the organisation's progress against the long-term Diversity and Inclusion Strategic Framework, and will provide advice to the Executive Leadership Team, Board of Directors and British Cycling staff.
The current members of the group are:
Julie Watts (Co-Chair)
Julie Watts was elected to the British Cycling Board in November 2019, having previously served as Chair of the Eastern Regional Board and member of the BMX Commission.
Julie has been involved in the organising and running of BMX events since 2003 after first becoming involved in the sport through Braintree BMX Club, and successfully led the club through a number of national race events. Julie also served as the Chair of BMX East for a number of years. As well as this, she is a qualified commissaire and has also served as a race administrator for a number of national and international events.
Julie is an avid leisure cyclist, enjoying regular social rides with family, friends and other like-minded cyclists. She brings vital decision making, leadership and organisational skills to the Board, honed in her role as a Senior Clinical Manager, and has over a decade's worth of experience in clinical and operational management both within the NHS and private healthcare environments.
Aneela McKenna (Co-Chair)
Aneela McKenna's energy and passion for cycling rallies people of all ages and from all walks of life to swing a leg over the saddle. She brings 20+ years as a Diversity and Inclusion professional into everything she does, ultimately striving to widen participation in cycling. Hundreds of women and young girls enjoy her MTB holidays, rides and events across Scotland and the UK.
Throughout her career she has worked closely with leadership teams on culture change, supporting businesses, auditing and developing policies on diversity. Her current role is Diversity, Wellbeing and Inclusion Manager for the Scottish Parliament, which she does on a part-time basis.
Aneela's passion and commitment to diversity and inclusion has been publicly recognised. Notably she received the 'Women in Leadership' award at the CEMVO Scottish Ethnic Minority Impact Awards, and in cycling she recently received 'Local Hero of the Year' at the DMBinS Scottish Mountain Biking Awards for her services to widening participation in cycling.
Nazaket Ali
Nazaket has for the last 30 years worked with young people in the voluntary, community and statutory youth work sector. Currently he is the Advanced Practitioner working for Bradford Youth Service managing the district-wide Youth Work Team, leading its externally funded work around intensive interventions with criminally exploited young people, the JUMP sports leaders programme and many other community-based initiatives. He has a key role in the development of new and young workers and creating the pathways that enable young people to become volunteers and move on to join the workforce.
Deena Blacking
Deena Blacking is a cycling coach and sports consultant with a wide range of experience across sport, law, and the voluntary sector. Within cycling, Deena has experience working nationally and internationally within amateur and professional cycling. Deena has a particular interest in supporting women in cycling, and has designed and delivered sessions and workshops for female riders and female coaches. She currently provides pro bono support to The Cyclists Alliance, the international independent union for professional female cyclists.
From 2016-2020, Deena worked in high performance at UK Sport and chaired the national talent pathway strategy group. She delivered several national collaborative projects to support education and people development across the UK. As a consultant, Deena has designed and delivered education at national conferences to promote inclusion in sport. She is currently leading a project to tackle inequality in the workforce for Sport England.
Prior to her career in sport, Deena worked in human rights law in London. She was the co-chair of Young Legal Aid Lawyers, a national organisation which campaigned to increase social mobility and diversity within the legal aid sector and for equal access to legal aid.
Robbie De Santos
Robbie de Santos is Associate Director of Communications and Campaigns at Stonewall, where he has played an instrumental role in building the charity's LGBT+ inclusion in sport work over the last five years, including the award-winning Rainbow Laces campaign and building and running multi-year strategic partnerships with sport bodies on LGBT+ inclusion. As former Director of Sport at Stonewall, Robbie has extensive experience of supporting sport bodies in the UK to embrace more inclusive cultures, embedding LGBT+ inclusion within intersectional approaches.
Robbie is an active road cyclist, British Cycling member and on the committee of Hub Velo CC in Hackney, East London, where he is one of the Welfare and Inclusion Officers. In this role he is dedicated to putting diversity and inclusion at the heart of the club's culture, developing policies, practices and campaigns to celebrate the diversity of the club and ensure all members actively play their part in a culture that includes and welcomes everyone.
Andy Edwards
Andy Edwards grew up in North West England and began cycling in 1982, joining his first club in 1983. He started racing the following year, later joining a centre of excellence squad. He returned to the sport in 2010, racing for Kingston Wheelers and Sigma Sports, but also organising skills and coaching sessions with the likes of Rod Ellingworth, Daniel Lloyd and Alice Barnes.
Andy has spent most of his career in the commercial music business, as a record label executive and artist manager. He has served on the boards of UK Music and the Music Managers Forum. Since 2016, he has played a leading role in improving diversity and inclusion within the UK industry, which in turn has formed part of a broader effort across the global music business. This experience informed his approach to writing the Diversity in Cycling report, a collaborative grassroots effort to raise the issue of diversity within the cycling community. Since the report was published, Andy has been clinically diagnosed with both ADHD and Asperger's Syndrome (ASD), which fall under umbrella term of neurodiversity.
Sarah Galligan
Sarah Galligan is a communications and social values professional who works across the corporate and charity sectors though her agency These Four Words. Much of her work is focused on social mobility and diversity. She champions strategic partnerships and transparent and positive community and media relationships.
Sarah is based in Manchester where she leads rides for cycling groups including HSBC UK Breeze. She leads on diversity for the Tour de Manc sportive, is an Ambassador for Trek and volunteers with a local cycling club supporting BAME women. She also hosts regular online cycle cafes to talk about diverse aspects of cycling to demystify cycling culture.
Sarah is an avid road cyclist and in 2019 she rode from London to Cannes over five days. She also enjoys mountain biking and campaigns for better cycling infrastructure with campaigning group Walk Ride GM.
Lloyd Grose
Hailing from a family with a history of competing in elite sports spanning almost 50 years, from international sprinters to presidents of sporting federations, Lloyd Grose entered the world of cycling with the usual enthusiasm he puts into everything he gets involved in. Passionate and committed, motivational and level-headed, with a steely determination to succeed, Lloyd is a member of the Kingston Wheelers club in South London. This former ride captain at Black Cyclists Network is now a British Cycling Level 1 coach and is currently embarking on his Level 2 coaching qualification with an underlying thirst for sports physiology.
Outside the sporting field, Lloyd has applied himself very well in the world of business where he has worked across sectors such as charities, health, manufacturing and finance, successfully transforming businesses through the implementation of technology, and spent a number of years as a senior consultant at Microsoft. The significance of often being the sole person of colour in many places he has been employed at has resonated with him for a number of years.
Mark Hardie
Mark Hardie is a passionate cyclist, voluntary sector CEO with Access Sport and ex-human rights lawyer with experience of working to achieve equality, diversity and inclusion in cycling and other settings. Mark is a firm believer that cycling has a hugely beneficial role to play in society and that there is a tremendously important opportunity now for British Cycling, along with other cycling organisations, to reflect honestly and implement change so that cycling becomes a beacon for diversity and inclusion.
Aneel Javed
Aneel has worked in the sport industry for 15 years, working in the public and private sector across the UK, starting his career as a sports coach, and then more recently working with the English Football League (EFL) for seven years as Inclusion Manager. He then set up his own sports consultancy working with a number of clients and has founded The Sports Innovation Hub CIC.
Aneel provides strategic direction to, and oversight of, a number of equality, diversity, inclusion and anti-discrimination plans for sports organisations and other industries. Aneel has also authored a number of guidance documents and hosted events and conferences in relation to EDI and anti-discrimination. Aneel has developed and implemented a number of positive action programmes on under representation within the workforce, and specialises in building capacity within organisations through structured learning and development programmes.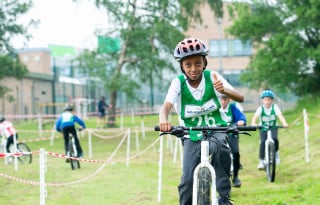 Louise Johnson
Louise is an experienced HR Director with a passion for inclusion and the pursuit of diversity and equality. Having spent most of her career working at Sky, she has hands-on experience developing programmes to diversify the workforce and helping ensure everyone has a consistently positive experience at work, so they can be themselves and perform to their best. When working as Sky's Director for Inclusion, with an army of inclusion champions right across the business, Louise's team propelled Sky into the top position in the Inclusive Top 50 UK Employers. A very keen recreational cyclist, Louise is looking forward to applying her professional experience to help British Cycling achieve its diversity and inclusion ambitions.
Rosie Ranganathan
Rosie Ranganathan has more than 20 years' experience in Human Resources, and has worked in a range of industries including sport, media and entertainment. She is passionate about creating inclusive cultures, where people can be their true selves and do brilliant work.
As People Director for the ECB, Rosie developed the first Diversity Action Plan, gender pay gap reporting and innovative methods to drive diversity and support inclusion. Her ability to work at a strategic level to change the conversation in this space is underpinned by her practical experience of understanding how to implement changes that drive the diversity agenda. Rosie is currently an Independent Executive Coach and HR Consultant, predominantly working with sports organisations to embed inclusion in their day-to-day operations. She is on the Board of UK Coaching.
Hamid Vaghefian
As Head of Community Engagement for London Marathon Events, Hamid is leading the charge in diversifying participation across the company's event portfolio (running, swimming and cycling). Hamid set up the organisation's first Inclusion Advisory Group to tackle the issue of under-representation of ethnically diverse groups. Additionally, Hamid is leading London Marathon Events' internalEquity Diversity and Inclusionstrategy, implementing a raft of initiatives to create a more diverse and inclusive workforce and culture.
Hamid's expertise lies in community engagement and authentic partnership working to bring about social change. His network has been developed over years of working in the non-profit sector, as a youth worker, educator, community activator, strategic lead and regional and national programme manager. He built a network of over 450 community organisations using sport for social change across London in his previous role at Sported, a London 2012 Olympic legacy charity.
Hamid is trustee of The Running Charity, using running and fitness to improve the lives of 16-25-year-olds who are homeless or at risk of homelessness across the UK. He is also trustee of the Young Harrow Foundation, a membership organisation supporting the local youth sector to build capacity, increase fundraising opportunities and develop partnerships in the community.
Philippa York
Philippa York was born and educated in Glasgow, and almost trained to be an engineer before discovering cycling at the age of 16. She was able to compete at the highest level in Europe for nearly 16 years, and after retiring from cycling she took up Tae Kwon Do to learn something very different – and reached 2nd degree black belt, though it did take 13 years of trying. Philippa has a son and a daughter, both grown up, and a partner of more than 25 years. She currently lives in Dorset and sometimes writes or commentates on cycling for various outlets, does a bit of human rights work and if it's reasonable weather rides her bike – but not too fast or too far.