Exposure to the sun is unavoidable in cycling; whether it be on training rides, sportives, trips around the park with the family, one-day races, commutes, stage races, jollies or grand tours – whatever level and whatever discipline you ride, part of the joy of cycling is being outdoors in nature, but it is important to protect your skin all year round.
We are working alongside our Official Sun Protection Supplier, Pelotan, to raise awareness of the dangers of too much unprotected exposure to the sun's ultraviolet (UV) rays to ensure that you can ride in a safe, comfortable and enjoyable way.
We have developed important advice to help limit unprotected sun exposure, which is proven to damage skin, cause premature ageing and increase risk of developing skin cancer. In the short term, it can also negatively impact performance and recovery whilst also making you less likely to want to ride your bike! The advice provides key recommendations on how to reduce exposure to harmful ultraviolet radiation whenever you're in the saddle.
Sun Protection Advice and Best Practices
1) Be Prepared
Always check the weather forecast, including the UV levels, before you plan to go out. If you are lucky enough to ride in good conditions, ensure you include sun protection as part of your pre-ride ritual.
2) UV Index
Even when the weather is overcast, UV radiation can still be 80% of its normal levels. The temperature can also be deceiving! A breeze can make it feel a lot cooler than it is (no more so than when cycling and getting a breeze from the speed you're travelling) however this breeze will not affect the UV levels. Keep an eye on the UV index and, if in doubt, remember it is better to be safe than sorry. Bear in mind that riding at altitude means you'll be more exposed to UV rays.
3) Broad spectrum protection
It is important to use sun protection that keeps you safe from UVA and UVB damage, so look for products with an SPF (sun protection factor – how much protection you get from UVB rays) of 30 or more and with broad spectrum protection. SPF30 blocks 97% of UVB radiation. Even with a high SPF, if a sunscreen isn't broad spectrum, you won't be protected from all UVA rays. Our Official Sun Protection Supplier, Pelotan, offers a range of broad-spectrum products.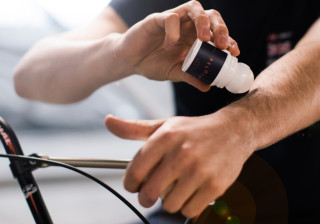 4) Choose the right product
Consider the best product for your activity – there is no 'one size fits all' and clearly your skin has different requirements on longer rides than it does lying still on a beach! Find a product that is lightweight, breathable and sweat resistant to ensure your sun protection doesn't detract from your enjoyment on the bike and you can focus your attention where it counts – on the pedals.
5) Protection time period
Think about how long you are going to ride and use a product that will likely offer you the longest, most suitable protection. Some modern UV filters have been developed to last longer (in Pelotan's case, up to 8 hours), meaning you can avoid stopping frequently and enjoy the ride.
6) Listen to your body
It is important to remember that although 'once a day' sun protection will protect you in the saddle for longer, it is no replacement for listening to your body and being aware of the conditions. For longer rides, take a travel size product in your jersey pocket and top up as necessary. Pelotan offers a unique SPF 30 Roll-On, designed for precise, easy application even in windy conditions outside.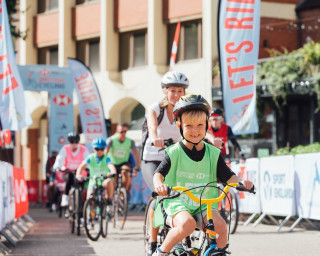 7) Apply correctly
Ensure you apply the recommended amount of sun protection (more than you think, studies show most people do not apply enough which significantly reduces protection) at least 15 minutes before your ride and do not miss areas such as your neck, temples and ears as these are commonly forgotten.
8) Head to toes
Don't forget to pay attention to your head as well as the rest of your body. There are risks of burning through the vents of your helmet so ensure you protect this area with either Pelotan's SPF 30 or a traditional casquette… even better, wear both!
9) Skin type
Different skin types need different levels of protection against UV rays so it's important to follow the appropriate recommendations for your skin type.
10) UPF clothing
You can protect your skin even further with UPF (Ultraviolet Protection Factor) clothing which is becoming more common. With lighter jerseys and bibs, it is important to apply sun protection UNDER the clothing too, so you don't end up with sun burn in the shape of your favourite kit manufacturer's logo. Of course, ensure to wear UV protective sunglasses to keep your eyes safe.
British Cycling members get 25% off Pelotan sun protection. Visit the member benefit page for more details.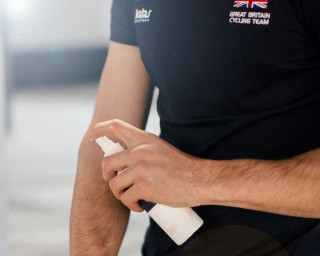 Find a product that suits your skin type, ride length and personal preferences and build it into your pre-ride ritual to ensure sunburn doesn't ruin your ride. When developing sunburn, you experience various symptoms that can lead to a reduction in performance including discomfort, irritation, distraction and, most pressingly, diversion of white blood cells and other essential resources to aid the skin's recovery. The sooner your leg muscles recover, the sooner you can get back out on the bike!
Please note this is a general guideline as everyone's skin is different. Please use common sense and avoid over exposure and/or sunburn.