British Cycling is urging its 160,000-strong membership community to continue to come together for the benefit of others, as the effects of the Coronavirus/COVID19 outbreak are felt.
In what are unprecedented and difficult times, the galvanising power of community has begun to truly come to the fore, and cycling is no different.
We have shared ways in which those with access to a bicycle and are showing no symptoms of the virus can aid the most vulnerable, whilst still adhering to current social distancing advice.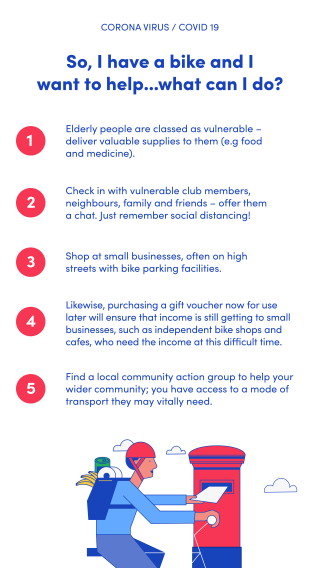 British Cycling Chief Executive, Julie Harrington, said:
"We're all aware just how tough these times are. However, something that is continuing to shine through is the willingness and desire of people to do anything they can to help those who need it most.
"That has been reflected by our membership. We have over 160,000 members, and we know that as a group and a wider cycling community, we have the ability to do something positive in what are dark days.
"We've publicised our suggestions, but we'd urge all those within our community to share what they're doing – whether it involves a bike or not – to lend a helping hand at the moment. We can get this message far and wide, and ensure that everyone with the means to help out has plenty of ways in which to do so."
To formalise your volunteering, please register to be an NHS Volunteer Responder by clicking the link below.