Junior Rider Logan Maclean [Spokes Racing Team] wins the 2019 Scottish Cycling National Open Omnium Championships title whilst local girl Gemma Penman [Glasgow Cycle Team] takes the Women's Scottish Cycling National Omnium Championships title in an exciting afternoon's racing at the Sir Chris Hoy Velodrome in Glasgow.
It was a hard race overall for Maclean, whose campaign didn't get off to the best of starts, as he went on to explain, "I kinda mucked up the Scratch Race" – Won by Andy Brown [Velocity 44 RT] – "finishing 10th, so I thought right – I need to do some hard work to get back to where I need to be.
In the Tempo I went from the gun and picked up lots of points – and went on to win that race. I managed to fight my way to 5th in the Elimination Race". Defending Champion, Kyle Gordon [RT 23], took the glory in that one.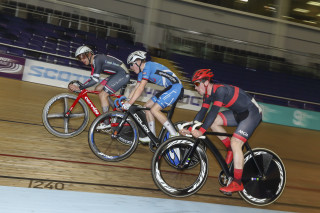 Maclean went on to say: "Then I thought there are 4 guys in front of me, so I need to take a lap going into the Points Race. When the gun went, I went to try and get that lap. I was out there for 50 laps of the 100 lap race, but eventually got the lap and picked up a few points on the way – which was great."
Asking Maclean what it meant to win a Scottish title, he said, "It's brilliant. I'm still a Junior, beating older and more experienced riders. I'd like to thank Scottish Cycling for putting on this event, my coach and thanks to my sponsors as well."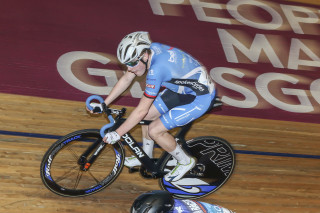 Gemma Penman stepped up to Gold in the Women's Omnium event having finished 3rd
in the previous year, leaving Anna Shackley [Team 22 WRT] to pick up another silver, despite taking maximum points in both the Scratch Race and the Tempo Race.

The pair duelled throughout the competition with Penman getting the better in the Elimination Race. Bronze medallist, Zoe Watters [Sprockets Cycle Club], Sarah Walker [Team Boompods] and Becky Storrie [Synergy Cycles] gave a strong challenge to both Penman and Shackley throughout the competition but grit and determination won through for the Glasgow lass.

After the racing, Penman said, "I'm quite surprised by the outcome as I hadn't been feeling great recently on the bike. I try and recover on-and-off the rollers in between the races. I think that's my process to cope with it. The points race, I rode how I wanted to ride it. I had more punch in me. I didn't want to let anyone get away."

Asking Penman what it meant to take a Scottish Cycling National title, she replied "It's a nice way to get back on the podium. At the Scottish Champs last September I wasn't feeling great then too, so to get on the top of the podium – I'm so pleased".
---
Scottish Open Omnium Championship - final standings.
Gold Logan MacLean Spokes Racing Team 133 points
Silver Andy Brown Velocity 44 RT 124 points
Bronze Adam Mitchell Spokes Racing Team 109 points
Scottish Women's Omnium Championship - final standings.
Gold Gemma Penman Glasgow Cycle Team 149 points
Silver Anna Shackley Team 22 131 points
Bronze Zoe Watters Sprockets Cycle Club 122 points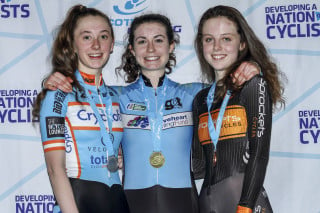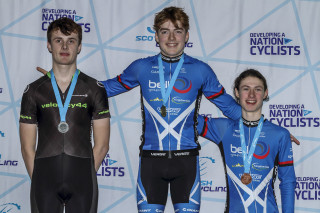 Were you racing this weekend? Don't forget to tweet @ScottishCycling #SCResults to let us knoyour results.