British Cycling and HSBC UK have announced the evolution of their programme of city centre events for 2018, providing more people with the opportunity to get involved in creating a greener, fitter, healthier Britain.
HSBC UK Let's Ride events are free, family cycling festivals which help people to get out on their bikes in a safe and friendly traffic-free environment, and to vote with their pedals in support of cycling.
This year's events will tie-in closely with museums, parks and other cultural attractions to give participants the unique opportunity to swap the car for the saddle and discover more of their city on two wheels.
The programme aims to demonstrate how cycling can begin to remedy some of the biggest challenges facing the UK today, and is a key part of British Cycling and HSBC UK's vision to get two million more people on a bike by 2020.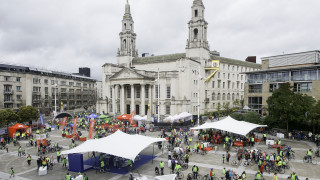 As obesity, congestion and air pollution continue to make headlines, the two organisations hope that the events will encourage local and national decision-makers to help people make cycling the number one choice for short journeys, and to transform our society.
Recent statistics show that:
Julie Harrington, chief executive of British Cycling, said:
"The benefits of increased levels of cycling are obvious: getting more people on bikes will make us healthier, ease congestion on our roads and clean up our toxic air.
"Alongside HSBC UK, we are passionate about bringing about positive change through cycling and transforming Britain into a great cycling nation, bringing us up to speed with many of our European neighbours.
"HSBC UK Let's Ride is a key part of this, and we are delighted to be expanding the programme this year to give even more people the opportunity to get involved."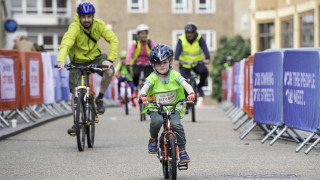 Luke Harper, head of HSBC UK's partnership with British Cycling, said:
"Our partnership with British Cycling is about getting more people to experience the joys of cycling, whether they are a new or lapsed cyclist. The HSBC UK Let's Ride series of events is designed with grassroots cycling in mind, giving people the opportunity of seeing some of our finest cities on a closed road circuit, with additional events for all the family.
"The effect of more people cycling is not to be sniffed at: it will undoubtedly lead to a cleaner, fitter, healthier Britain."
On the day of the events, riders can take the opportunity to cycle on traffic-free, city centre streets, with additional entertainment for families along the route staged by local community groups, museums and other cultural attractions. The events are non-competitive, and riders are invited to cycle around the route as often as they like.
Over 100,000 people took part in last year's events, cycling over 150 million kilometres on traffic-free streets. During the event in Newcastle, research conducted by Newcastle University proved that there was a 75% reduction in harmful gases, highlighting again the benefits brought about by increased levels of cycling.
Events will this year take place in cities, towns and alongside existing cycling events.
2018 HSBC UK Let's Ride dates
May 13: HSBC UK Let's Ride Cardiff
June 10: HSBC UK Let's Ride Birmingham
June 15-17: HSBC UK Let's Ride L'eroica (Peak District)
June 17: HSBC UK Let's Ride Southampton
June 24: HSBC UK Let's Ride Edinburgh
July 1: HSBC UK Let's Ride Manchester
July 8: HSBC UK Let's Ride Bristol
July 13-16: HSBC UK Let's Ride Stockton
July 15: HSBC UK Let's Ride Sheffield
July 29: HSBC UK Let's Ride Newcastle
August 5: HSBC UK Let's Ride Coventry
August 12: HSBC UK Let's Ride Leicester
August 26: HSBC UK Let's Ride Glasgow
September 2: HSBC UK Let's Ride Leeds
September 16: HSBC UK Let's Ride Nottingham
September 23: HSBC UK Let's Ride Liverpool