British Cycling is delighted to announce that HSBC UK City Ride has today been shortlisted for the Sport Industry Awards' Participation Event of the Year award.
Taking place for the first time in 2017, HSBC UK City Rides were held in 14 major cities across the country, with more than 100,000 people attending – and cycling a total of over 1.5 million kilometres on traffic-free city centre roads in the process.
The free-to-attend events are the first step towards HSBC UK and British Cycling's ambition to get two million people on bikes by 2020, making cycling the UK's most popular activity and sport of choice.
Speaking about the events, six-time Olympic champion Sir Chris Hoy said:
"The figures are truly fantastic, and go a long way to show the huge appetite for cycling when people are given a safe, welcoming space in which to do so. Throughout the summer we have seen people of all ages, abilities and confidence levels cycling through traffic-free streets in some of Britain's biggest cities.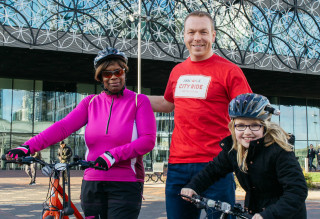 "British Cycling and HSBC UK want to make this a normal, rather than an exceptional sight - making our country greener, healthier and happier along the way - and it's great to know that, through this year's HSBC UK City Rides, they've made such a positive start."
During each event, city centre roads were closed to motor traffic, and the environmental benefits of prioritising sustainable transport were highlighted by a study conducted by Newcastle University, which found that during the city's HSBC UK City Ride, there was a 75% reduction in harmful gases -nitrogen oxide (NO) and nitrogen dioxide (NO2) - in the air.
A survey of participants in all 14 of this year's events revealed that 56% were taking part in their first British Cycling mass participation cycling event, and that 91% had enjoyed a positive experience.
The overall winner of the award will be announced at the BT Sport Industry Awards, which take place on Thursday 26 April at Battersea Evolution.
You can find the full list of awards and nominees here.