British Cycling has influenced 723,000 women, who weren't cycling previously, to get on a bike since 2013, the sports governing body announced today - four years after announcing an ambitious target to get one million more women cycling by 2020.
Launching a four-year progress update on its #WeRide women's strategy, British Cycling has revealed the extensive changes that it has put in place across all levels to begin to counteract the legacy of a 50-year gender gap.
Women's strategy four-year update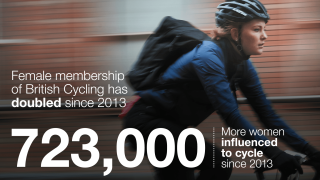 Key achievements include:
723,000 more women influenced to cycle since 2013
72% increase in female race licence holders since 2013
Over 150,000 female attendances at HSBC UK Breeze bike rides, British Cycling's female only rides programme
Almost 500 clubs across the country now offer women-only sessions
70% increase in the number of trained female coaches
British Cycling's female membership has doubled since 2013
British women have won over 20 elite world titles since 2013
British women won ten Olympic and Paralympic cycling titles at Rio 2016
Three women now sit on British Cycling's Board of Directors
Commenting on the progress, British Cycling's CEO, Julie Harrington, said: "When British Cycling launched its women's strategy in 2013, people told us we were being too ambitious with our target to get one million more women on bikes.
"This itself was proof of the entrenched view of cycling as a sport for men. Four years on, I am pleased to say that the sport is in a different place. Our perseverance across all areas – from encouraging clubs to offer women-only sessions to training 70% more female coaches – is paying off.
"Of course this does not mean we can afford to be complacent. The biggest challenge we now have – and I think cycling is not alone in this – is persuading women to keep riding. Retention is a major factor and we need to better understand just why women drop off.
"This isn't something we can tackle alone – we'll need the support of sports bodies, cycling and transport organisations, national and local government, and the media. But we are determined to crack it.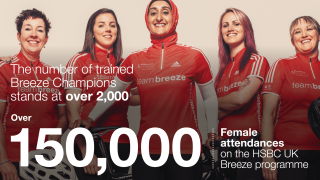 Julie Harrington will today attend a progress update event at the Wellcome Collection alongside Britain's most successful female Paralympian Dame Sarah Storey, double Olympic silver medallist Becky James and five-time world champion and British Cycling ambassador Shanaze Reade.
Dame Sarah Storey added: "Research shows that one of the main barriers preventing women from cycling is that they don't feel safe on the roads.
"In order to encourage more people to get on their bikes, it is crucial that politicians and decision makers take on board safety concerns, and ensure that our roads are appealing, safe shared spaces which can be used conveniently by all road users, regardless of their chosen method of transport."
Welcoming the news, Sport England's CEO, Jennie Price, added: "It's fantastic to hear that British Cycling have encouraged another 723,000 women to start cycling.
"The great thing about cycling is there's something for everyone, whether you want to go for a leisurely ride on the weekend, steer a mountain bike through a forest, or commute to work.
"Women are still less likely to cycle than men, and less likely to do exercise in general, so we can't stop here. Sport England are trying to close the gender gap with the This Girl Can campaign and wholeheartedly support British Cycling's continuing work on their women's strategy."
Luke Harper, HSBC UK's head of the partnership with British Cycling, commented: "Getting people to fall in love again with cycling is what our partnership with British Cycling is all about, whether it is to compete at grassroots level, to get fit or as a cheap way to travel to work.
"British Cycling has done a fantastic job to bring cycling to expand the attraction of cycling across a wide range of people and groups. It is great to see so many women getting on a bike and enjoying the benefits of doing so, and through our partnership we look forward to seeing many more."