British Cycling, HSBC UK and 13 local authorities, are inviting everyone across the UK to dust down their bikes and get on the saddle as they launch the HSBC UK City Ride programme that will create 13 traffic-free, mass participation rides in cities across the UK in 2017.
The announcement of the new mass participation events is the first step towards British Cycling and HSBC UK's ambition to make cycling the UK's most popular activity and sport of choice. Together they are working towards getting two million people on bikes by 2020.
HSBC UK City Ride dates
Six time Olympic gold medallist, Sir Chis Hoy said:
"We want everyone to relive the freedom and thrill that comes when you get on a bike. The HSBC UK City Rides will ensure that thousands of people across the UK get the chance to enjoy cycling through their city on traffic-free roads, inspiring them to make cycling part of their everyday lives.
"By opening up the roads of some of our biggest cities, we want to demonstrate the change and benefits that can come from having cities with fewer cars and more bikes. This is a vision that British Cycling and HSBC UK are determined to drive forward over the course of the next four years. These events are the first step towards achieving that goal and getting two million people cycling by 2020."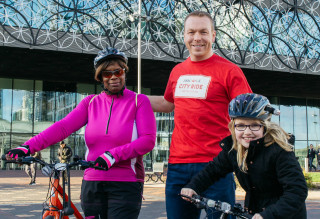 Great Britain's most successful female Olympian, Laura Kenny, added:
"Events like HSBC UK City Rides are great for families with young children who want to experience the thrill of riding on roads for the first time in a comfortable and fun environment
"When I was growing up, I would have loved the opportunity to take part in an event like this with my family. It's a completely free day out and is just about embracing the simple pleasure of riding through a city by bike, give people a new perspective.
"Whether you're getting on a bike for the first time, or coming back to cycling after a period away from the sport, these rides are the ideal opportunity to dip your toe in the water and see if cycling is for you."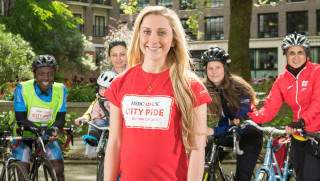 Giles Morgan, HSBC's Global Head of Sponsorship, said:
"Our partnership with British Cycling is all about ensuring that anyone, anywhere in the UK has the opportunity and inspiration to get on their bike, whether that is for travel, fitness or fun. Over the next eight years we will work with British Cycling to embed cycling into communities up and down the country and inspire two million people to get on their bikes.
"We know that more people cycling will lead to a healthier, greener, happier nation, making a significant impact on issues such as obesity, depression and pollution. Cycling can be the solution to so many problems in this country and HSBC UK City Rides is the first step on that journey."
For more details and to register for free, visit – letsride.co.uk