British Cycling chief executive, Ian Drake, has stated his intention to target Brompton World Championship glory in 2016, after Prudential RideLondon today released details of this year's course.
Drake, first took part in the race in 2013 and last year produced an impressive performance to finish in 32nd place. The 11th Brompton World Championship Final will take place on Saturday 30 July 2016
But having considered the 2016 route, Drake is confident that this could finally be his year, after notching up an impressive 4,500 miles on a Brompton in 2015.
"I'm looking forward to this year's race. The course is nice and flat and I've been gearing my early 2016 training towards this. I've also been working on my bike unfolding technique as getting this right can gain you valuable seconds at the start of the race."
Ian Drake in action at the 2015 Brompton World Championships. He finished 32nd. https://t.co/aqBrxu4wKQ https://t.co/eiX01relpP

— British Cycling (@BritishCycling) January 29, 2016
There are BWC qualifying events in 12 countries and the fastest male and female from each BWC series event is awarded a place in the World Championship Final in London.
Drake will undoubtedly face strong competition with last year's field including British riders like David Millar and Michael Hutchinson. The race was won by Mark Emsley.
It will be the second successive year that the Brompton World Championship final has been part of the Mayor of London's two day festival.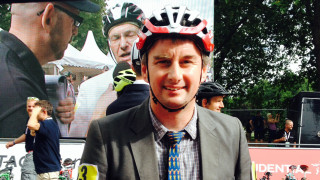 The race begins with a dash to unfold bikes before taking on the 1.3-mile circuit which starts and finishes on The Mall in front of Buckingham Palace. Sportswear is not permitted and there is a strict No Lycra rule.
Hugh Brasher, event director for Prudential RideLondon, added: "The Brompton World Championships Final is a great addition to Prudential RideLondon. The incredible range of costumes and the excitement of the race was a huge hit with spectators in 2015 and we're delighted that the event will be part of the festival again in 2016."