Cyclists will take to the track at Middlesbrough's new outdoor velodrome for the first time this week.
British Cycling has invested £500,000 in the development, which will be used by a number of affiliated clubs and provide significant opportunities for people in the North East to access a top class cycling facility.
The 250m velodrome forms part of Middlesbrough Sports Village, and is situated next door to an existing closed road cycling circuit, meaning that the village has grown its already impressive offering for new and experienced cyclists alike.
British Cycling's coaching, education and development director, John Mills, said: "We're delighted that the Middlesbrough Velodrome is set to open this week.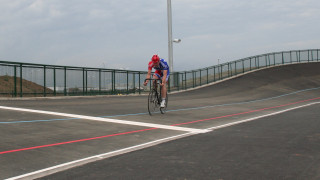 "With less than one year to go until the Olympic and Paralympic Games, having another facility of this standard reflects the great progress that has been made in cycling infrastructure here in the UK.
"It's fantastic that British Cycling clubs are going to have access to the track and therefore increase the spectrum of activities they are able to offer.
"Building our network of facilities will also help to ensure that anyone who wants to get involved in the sport has an accessible and affordable location nearby with support from British Cycling qualified coaches.
"We saw after London 2012 how many people were inspired to give cycling a go for the first time and this is one of many projects that British Cycling is currently involved in to develop more cycling facilities across the country."
Councillor Lewis Young, Middlesbrough Council's executive member for culture, leisure and sport, said: "The Sports Village is an outstanding sports destination of regional significance, and the velodrome is a fitting addition to one of the best facilities of its kind in the country."
Initial sessions at the velodrome will be open to accredited cyclists, and take place on Tuesdays between 6 and 8pm; Wednesdays between 12noon and 1pm; and Fridays between 6 and 8pm. The first open session will take place this Friday.
For more information, visit the Middlesbrough Sports Village website.