As shared at our Club Conference in November 2022, Scottish Cycling is delighted to share a refreshed Club Development Framework and outline a new programme designed to support clubs to reach their aspirations.

Since we launched the first Club Development Framework in March 2020, a lot has changed! We committed at that time to ensure that our tools and resources would continue to evolve to meet the needs of clubs, and thus we have developed a refreshed Club Development Framework. It's designed to be a go-to resource for clubs that are looking to progress their development. It can be further enhanced through the support available via our Club Development Team, and that is outlined further down the article.
Commenting on the launch on these two crucial pieces of work, Fraser Johnston, Project Lead for the 2023 UCI Cycling Cycling World Championships and Club Development said:
"As we enter into what is set to be a historic year for cycling in Scotland, we, as a Club Development Team, are committed to doing all we can to support clubs to embrace the opportunities that this represents. We know that the foundations of our clubs are strong thanks to their commitment to the adoption of the Minimum Operating Standards in recent years, so now is about continuing that momentum forward and ensuring that Cycling can welcome a diverse new audience of participants across Scotland. Please take the time to consider both our refreshed Club Development Framework and ASPIRE, our targeted support programme, and get in touch with the team if we can support you in fulfiling your aspirations".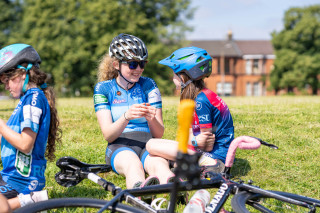 Refreshed Club Development Framework
The aim of the framework is to support all clubs to take steps to develop and enhance their club. The overall framework can be found here. The new framework is based around four key pillars which we believe will provide clubs the right tools to grow and be successful as a club. These pillars are:
Within each pillar there are several links, documents and advice relating to a number of different ways to develop within each area. These can be access by clicking on the links above. These pages constantly refresh as new resources are developed, so we can encourage all clubs to check back regularly. If you can't find what you are looking for, please don't hesitate to get in touch with your Club Development Coordinator.
ASPIRE
We are delighted to launch our new club development programme, Aspire. It's an evolved programme based on our previous Progression Programme which first launched in March 2020 and supported 17 clubs over a two year period. Clubs on the Aspire programme will receive targeted support from the Club Development Team, as they work towards club specific targets and goals.
The programme has been created to be able to cater to the needs of all clubs, regardless of size or aspirations, and will support the club based on what they want to achieve. We have identified some key areas that we see as crucial to the development of safe, progressive and inclsusive clubs. These are:
Diversifying club membership to better reflect the local community
Establish links with local authorities, community organisations and 3rd sector parties
Reducing waiting lists in clubs
Developing/Rewarding/Retaining club volunteers
Growing number of qualified coaches/MTB leaders
Clubs are not limited to these areas and if there is anything else you wish to develop, we can guide you in the right direction. Support will also be aided by the newly refreshed Club Development Framework. For more information, please contact your Club Development Coordinator. Clubs can either choose to focus on areas that they have identified already or use the club development framework for inspiration.
Should you wish to set up a meeting please contact the relevant CDC for your region.
East: Kate Jackson – kate.jackson@scottishcycling.org.uk
North: Neil Wilson – neil.wilson@scottishcycling.org.uk
North East (Grampian): Ewan McArthur – ewan.mcarthur@scottishcycling.org.uk
North East (Tayside & Fife): Ruth Wright – ruth.wright@scottishcycling.org.uk
South West: Kate Jackson – kate.jackson@scottishcycling.org.uk
West: Ewan McArthur – ewan.mcarthur@scottishcycling.org.uk