In the depths of Denbighshire, Wales has an unsung hero of mountain biking. UCI Mountain Bike Commissaire Adrian Walls is one of many volunteers who work tirelessly behind every race.
Adrian was one of the first UK based UCI Commissaires in mountain biking, and for the past 22 years has been officiating, supporting and assisting at mountain bike events across the world.
He started his career in mountain biking by organising local races in North Wales, growing tired of having to travel to events across the UK and quickly progressed to hosting National Points and Championships events. As mountain biking ambitions grew in Britain, there was a need to have UCI Commissaires based in the UK.
"I attended a UCI Commissaire course in Paris, returning to Britain as one of the first dedicated mountain bike commissaires in the UK. Following that, I became involved in attending races across the UK and supporting organisers ensuring races met the necessary standards and acting as the interface between organisers and riders – whether they be happy or unhappy!
Mountain biking is more laid back than other disciplines, and you have a few riders with a ragged approach to the rules! Your job is to ensure the race is safe and follows the guidance in the rule book. This gives the rider a well-organised race in which they are able to deliver athletic excellence, and the organiser has your support to keep the event running to time, and within budget."
People and places
Adrian acts as commissaire at around ten events each year. Two of these will be International appointments, set by the UCI, with four or five being National events within the UK in cross country or downhill and the remainder regional events here in Wales.
"Getting to see new places and trails whilst talking to local people, organisers and racers who have passion for their sport is one of the most enjoyable aspects of being a commissaire. Chatting about how they want to enhance the sport, helping with solutions and sharing ideas from other events are some of the things as a commissaire I can do.
When you are abroad working at a race where you know few people, working as part of the event team you find you share many common themes you don't see as a traveller. I always learn something new."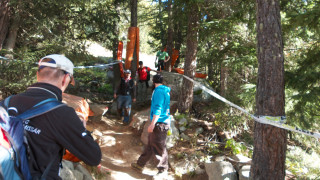 Having travelled all over the UK to the best trails in the country, Adrian adds Sweden, Denmark, Switzerland, Spain and many more to his commissaire passport. But his most memorable event is back here in Britain.
"Always the World Cup, and in particular Fort William. Having a home UCI Mountain Bike Downhill World Cup allows us to showcase all that is great about mountain bike sport in Britain, leading the world in organisation and capability of our riders. But travelling to smaller European events also shows how, with imagination and dedication, you can produce a great event."
Become a commissaire
Cycling is massively reliant on the hard work and commitment of a network of volunteers, a community that Adrian is keen to see expand here in Wales.
"Start small. Attend regional races and use your local knowledge at local races. If you have raced before it helps to understand the expectations of riders and riding helps to evaluate the course suitability. Don't be afraid to ask questions!"
Want to start your commissaire journey? We have MTB XC and MTB DH/4X Commissaire courses taking place in January and March 2016 in Wales. Contact Alistair Waldron for more information and support #BehindEveryRace