|
Cycle-Tec, the promoters of the Scott MTB Marathon Series, teamed up with Welsh Cycling to host Round 2 of the 2014 Welsh Mountain Bike XC Series as the opening event of the Builth Wells Spring MTB Festival at the Royal Welsh Agricultural Showground in Mid Wales.
The compact course proved popular with the riders despite some initial reservations on arrival when greeted by a "collection of car-parks". Flowing single track interspersed with sharp tarmac climbs and grassy descents took the riders from one car-park level to another, culminating in a technical rock garden descent back to the event arena.
First to tackle the tarmac climb off the start and the B route down through the rock garden were the Under 8s. Alfie Davies and Anwen Nesham recorded their second wins of the series but all impressed on what, for them, was a tough course.
Round 1 Under 10 winner Griff Lewis was pushed hard by Huw Buck-Jones but took a convincing victory, while Ioan Oldfield took third by just 4 seconds after a race-long battle with Osian Jones. Evelyn Higgins-Worrall also soloed to a second win but there were some impressive performances further down the field.
Under 12 Iwan Evans saw his early lead overturned mid-race by William Harding and had to settle for second again but it was another victory for Josie Nelson in the Girls' race.
There were comfortable wins for Sol Kerfoot-Robson in the Juvenile Boys' race and brother Dylan in the Junior Men's, Megan James in the Juvenile Girls' and Phoebe Hughes in the Youth Girls'. But it was a much closer affair in the Youth Boys' as Jack Broadley briefly overhauled Ross Hamden and Joe Barnwell, only to lose ground to Hamden and finish 4 seconds behind, with Barnwell just a further 5 seconds adrift.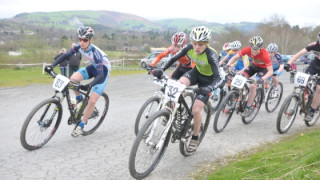 The trio of Dexter Hurlock, Lee Williams and Alex Welburn took an early lead in the Elite Men's race but, with Hurlock dropping off the pace, Williams slowly pulled ahead to take victory from Welburn by a minute. Mel Alexander did the Marathon Series sponsors proud in the Elite Women's race while Jack Humphreys and Donna Morris won in the Expert category.
Although in different categories Morris and the evergreen Lydia Gould pushed each other hard, with Gould taking top spot in the Sport Women's race; Pierre Thomas was a comfortable winner in the Sport Men's race.
Phil Morris and Grant Johnson improved on their Round 1 second placings in the Masters' and Grant Veterans' categories while Veteran Anthony White added to XCracer victories on the day.
A big thank you and well done go to Cycle-Tec's Dave Evans and Gareth Rowland, and their helpers, for hosting the event as part of their Festival weekend.