---
After a busy summer of wonderful weddings (other people's) and general laziness (mine), it had been a while since I last took up my bike in anger. I only managed a single 'training ride' for the Wiggle New Forest 100 – and it didn't go well.


I turned out for a Saturday club run with Brighton Mitre, my first action in six weeks, optimistic that the rest would have done me a power of good and fully expecting to set Strava alight. It didn't quite work out that way. Instead, when we reached Ditchling after 50 lumpy miles and two punctures, I had to ask the group to go on to the Beacon without me before I fell into a hedge with exhaustion.
I watched them disappear around the corner and retreated to the tea rooms for a recovery meal of chips and a coffee. Maybe I should have fitted in some cycling around those weddings, I mused as I mopped up the ketchup with my last chip. Still, plenty of time yet.
Fast forward three weeks to last Saturday night and I'd managed a grand total of 36km further cycling. Plenty of time yet, I thought as I fell fast asleep.
As luck would have it, when Robbie arrived at the door at 6.30 am ready to drive us to Brockenhurst, he was extremely ill with sudden-onset flu. Motoring along the A27, he announced that he would be doing the standard 70-mile course rather than the 100-mile epic as we'd planned.
'Bless you Orthomyxoviridae,' I thought, but my relief was short-lived as I realised I'd forgotten my helmet at home. The rest of the drive was spent plotting complex strategies for tricking the staff into letting me ride with just a cap on.
We reached the starting point in some fields, where I found my helmet in the back of the car, under my bike. I wasn't too disappointed – I'm quite forgetful, and that plan will come in handy another time. If I can remember it.
It was already 9.30 am, but the site was packed and the queue for the starting gate snaked across the best part of a large field. We spoke to a guy in the queue who was fresh back from a trip to Italy to take in the UCI world championships. He reckoned there were 3000 riders taking part, and while I've never been any good at those 'guess the number of sweets in the jar' competitions, it can't have been far short of that.
We rolled over the starting line and were soon deep in the enchanted woods. I was amazed and excited to see that the fabled New Forest Donkey, which I had always thought was the stuff of legend, was in fact real and living in the present day!
'New Forest Pony', corrected Robbie, as we pulled over to say hi to one friendly specimen. I pulled out my camera.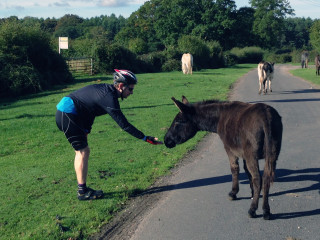 We said goodbye to the pony and set off again. The countryside really was beautiful, and we were treated to a visit from Mr Sun up in the sky, shining down to demonstrate his approval of me and especially Robbie's efforts, and cycling in general.
Robbie had camped a lot in the New Forest as a teenager so some of the route was familiar to him. 'This is Ornamental Drive' he told me as we entered a particularly lovely stretch of the course which wound downhill through glades of decorative, one might even say ornamental, trees.
We passed by the deer sanctuary, and suddenly I had to take evasive action from a little animal in the road. It was only as I swerved past that I identified it as a piglet, with mother pig keeping a watchful eye from the far side of the road.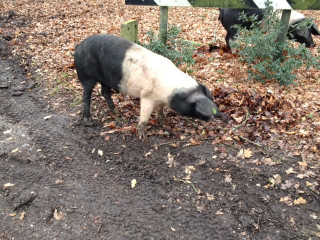 Wildlife was to be a theme of the day. As well as the ubiquitous ponies, which cropped up everywhere wandering blithely down the middle of the road, we spied shaggy-fringed cows and bulls who, like their pony brethren, demonstrated an approach to the highway code that was casual at best.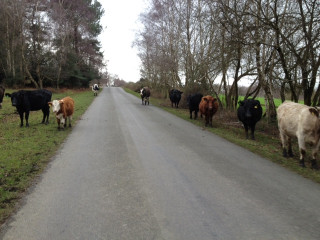 As for the ride itself, it was a very enjoyable and easy-going course through beautiful and varied scenery. Some sections reminded me of landscapes in the north of Ireland, with the road rising gently through peat bogland and flowering purple heather. The marshalling was excellent and friendly, and there was a noticeable family feel to the event with quite a few children and family groups, some riding the course on mountain bikes, recumbents and even hand cycles.
The 70 miles came to an end all too soon – or perhaps just in time, given Robbie's illness and my lack of preparation. We finished in a little over five hours for bronze standard, but this was always one we were happy to take easy and enjoy.
Back at the finish point, a live band was playing and there was a festival atmosphere with dodgems and stalls selling everything from road bikes to hog roast. I settled for a cup of coffee and some Haribo and as the last rays of sun shone down, it felt like we'd found our own little corner of paradise, right there in Hampshire.