---
My initiation into the fold of epic sportive riders happened on August 11, 2013. Granted, at just over 140 kilometres, it was one of the shorter epics on the sportive calendar, but nonetheless, I found it pretty tough – over 1700 meters of climbing! Luckily I was not alone for this one – Mark and Dad were on hand to see me safely round, and remind me exactly how fast they are, as I watched their blinking red lights drift into the distance when the road inevitably ramped up the gradient. On the starting line, the marshal explaining route signage said that they had double checked the course that morning to correct some signs which had been tampered with, but Mark was (wrongly, as I'll explain later) smug in the knowledge that the route map was programmed into his Garmin. I was also pretty chuffed at the start line because I'd managed to coax my Dad into lending me his prized Mavic Cosmic deep rims - I've always wanted to use them!
One by one, we filed through the starter tent and were set free onto the open roads. The plan, as always with my father, was supposed to be to set off slowly so as not to burn out too quickly, but within 20 minutes, it became clear that this was not the case. My average speed reading was showing 31 kph. And then the rain came. Obviously, the only one who was prepared for this eventuality was Mark, but he didn't even take his rain repellent jacket out. Baffled, I found out afterwards that he was going to offer it for me to wear, only to be forbidden to do so by my dad, since it was character building. I think I'll file this memory under 'Tough Love'.
Before the first hour was up drizzle had turned in to proper stinging rain. If nothing else, it was a sad reminder of what its like to ride in the winter again, realisation dawning that returning home with wrinkly feet from the puddles in your shoes will soon be the norm.
Finally, the weather turned into perfect cycling conditions and so Mark kicked up his heels with a small "Whoop – sun!" and sprinted up a small col, closely followed by Dad. I met them at the top, say no more! We decided we had enough supplies to miss the first food station, since the next was supposed to be at 70 km. I finished up my soggy flapjacks (homemade this time!) and Fudge bar, expecting a feast at the next food station, and happily carried on unawares of the monster hills in the way of the next food station. The organisers had crafted a terrifically windy route, making full use of quiet roads and hills that were new to all of us. This can rarely be said, since my Dad and Mark have an encyclopaedic knowledge of hills in the vicinity. Even before 70 km, I was starting to struggle with low energy. Even thinking about it whilst writing this is making me hungry!
Mark's GPS directions were disagreeing with route signage, which was worrying but we felt ok about this as we caught up with a huge group of riders that we assumed were on a shorter route of the sportive. Without warning, everyone else took a left, into a car park. I was certain that there hadn't been any food station signs, so we three carried on. We passed more route arrows confirming that we were still on course (the Garmin disagreed), but I was close to becoming pathetically slow if I didn't get food soon! After a further half an hour that felt like forever, the food station sign showed up. It wasn't what I was expecting to say the least! I have been very spoilt in all the sportives I have done with homemade goods lining tables, but this time there were two boxes – one laden with gels, and the other full of high5 bars. I'm told that this is what it was normally always like until recent times (also the sweeper van used to beat you round with a birch stick if you were too slow…). I quickly chose one gel and hurried off, because the others were ready to go again!
I made sure to stick to my Dad's wheel, who in turn was doing the same to Mark's wheel, for the last almost-flat part of the entire ride. I was still very hungry and the road swooped along so quickly that if I had tried to get something from my back pockets, I would have been dropped. I was not willing to admit that I needed a break so I waited craftily until the next hill to be dropped in order to capture a selfie (when you take a picture of yourself - below) to sum up my feelings. For your amusement: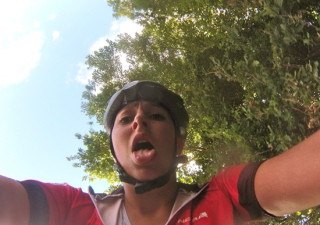 Then I had to swallow my first gel. I'd chosen citrus flavour – apparently these are less sickly sweet, and I probably managed to get 70% ingested, with the rest in the crumpled packet. I couldn't be bothered to straighten the wrapping out to get the rest of it so I shoved the wrapper in my pocket and focused on the task at hand: 10 kilometres of solidly ascending. I emerged in South Harting to find Dad and Mark chilling out, it was probably a mere lump of a hill in their eyes. They are seasoned cyclists – they spent a week in the Alps earlier in the summer. It would probably take 140 km of pure ascent to tire them out. We three musketeers were nearly at the end now, but Mark's ordnance survey knowledge told us that we were being directed into Liphook up the hilly way, and I had nearly nothing left in the tank. I did it at my own pace, and found it really hard work. Mark got tantalising close – one second away - to King of the Mountain here (Easebourne Hill) and he managed this feat nearly four (FOUR?!) minutes quicker than I.
Having a chat as the weather brightens halfway into the ride; Dad in blue, Mark in black.
The biggest treat was at the end, after the big hill to Liphook had left me with nothing else in my legs, sitting with the big bowls of chilli and crusty bread rolls from the café. We all definitely deserved it! The ride served as a reminder that the encouragement that you can get from your friends or club really makes a difference, whether it is a training ride or a sportive, because you always feel like you can put in 110%. This certainly was the case with me that day because there were a few times where I might not have pushed myself so hard, had I been on my own!
PS - Triathlon
I was entered into a sprint triathlon early this year – 750m swim, followed by a 20 km bike, then a 5km run. Since I know I can swim, cycle, and run the respective distances (got my Kellogg's swim badges done to prove it), I wasn't worried, and was sticking to a regime of swimming once a week, and practising shorter distance cycles followed by running. That is, until I realised that my father had been training in the dead of night with two weeks to go until the event, even having secretly drafted Mark to affix Tri bars to his bike.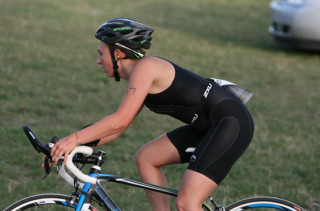 On the day of the long awaited triathlon, I did exactly what this article tells you not to do, and stuck my tri bars on mere hours before the race. But despite the lack of specific preparation in that respect, I did quite well for a first timer, finishing in just under an hour and fifteen minutes. I was even congratulated on a good cycle by one of the other triathletes at the finish! I guess all these sportives really do get you fit!