---
Three of our sportive bloggers were at large on the roads of Surrey for RideLondon. Whilst Gavin and Chris were awheel, toiling away at the pedals, Madeleine decided to put something back into the sport. Still tired from her Mega Meon exploits, Madeleine decided to volunteer for marshalling duties, succumbing to the irresistable lure of cheese sandwiches, dayglo bibs and the head-rush of power that comes from being equipped with a whistle and wave a flag for the morning. Madeleine takes over the story...
I wasn't aware of any volunteering campaign for the RideLondon event on Sunday 4th August, but I assumed they'd be glad of the extra help since it's such a big event. The company organizing the volunteers, CTC, made sure I was emailed the relevant agreements and information and gave me a village hall to be at, at 6.30 AM on Sunday. To get to my location on bike at this time, 5.45 AM was the latest I could possibly wake up… It's lucky that I'm no stranger to early starts!
So it transpired, that I had made breakfast and packed an extensive lunch, and was cycling to Abinger Hammer by 6 o'clock in the morning on Sunday. The other volunteers had all got there early because they knew they'd encounter problems getting through the road closures. I literally freewheeled through, and then practised riding no hands the whole way there, something that you would normally never be able to do unless you have a death wish – cars whizz past super fast on these roads. I was stationed on the corner where the RideLondon 100 had a ninety-degree right hand turn just past the Binger Arms (the 'A' has fallen off the sign, but I think this is a better name for a pub anyway).
By 7.00, no one was present to brief us and so we distributed first aid kits, rainproof ponchos and the rest of the supplies we had been left between ourselves. The old man in charge of village hall keys mentioned how displeased he was that the roads had to be closed, but he had picked an unsupportive audience. Whilst I appreciate that small businesses rely on roads being open, the RideLondon would be like any other sportive without the road closures. However by being friendly to cyclists coming through, long-term benefits will surely be great, since Londoners will now realize that when they come down for a Sunday ride they need to explore the cycling mecca that is the Surrey Hills. I made my way to 'my corner' and proceeded to eat all my food for the day, apart from the flapjack that I had extracted as the only worthwhile thing to appear in the packed lunches.
Above: You can't read the small print we know, but marvel if you will at the mindbending detail in that road closure chart.
As you probably can see from the picture above, the organization was meticulous, but you probably can't see (apologies, couldn't get an HD picture) that the first rider in sector 8, where I was, was scheduled at 7 o'clock (must've been a really early start for him then), but of course they were fashionably late. I had managed to grab a yellow flag and was happily blowing the whistle and holding up my flag like I had seen them do at the Grand Prix in St James' Park the day before, and rapidly becoming public enemy number one for the nearby residents of the semi-detached house. After this there was a small break to rest my arms, and then a steady flow of cyclists continued to appear for 5 hours. I could hardly believe my eyes! I had breaks from my continuous flag waving duties thanks to a surplus of volunteers who didn't mind swapping every now and then! I was a complete failure in that I didn't spot Gavin, Chris, or Boris. And even when I did glimpse someone I know, Georgie, she whizzed by so fast (and as an awesome result was the 5th fastest woman on the RideLondon to go up the infamous 'Leith Hill - 100 Climbs' Strava segment) that my brain didn't tell my mouth to shout an encouraging whoop in time!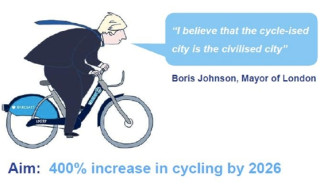 Above: Boris eschewed his usual suit and tie for 'proper' cycling gear to take on the sportive for himself. Did you spot him?
I know it sounds cliché, but I really appreciated the people that punctuated the time by shouting thanks, or smiling (not sure if they were laughing at me because I looked so ridiculous in the Prudential cap). I also had an abundance of other people to keep me company such as the crowd control stewards, one of which had come straight from a night shift, which had followed on from his day shift the day before. I amused myself by counting how many coffees he had to order (he is on the left in the picture below). It was also really rewarding to see so many people turning out to support their dads/mums/friends and watching all the riders go past smiling. In fact, even when the latter stages of the 100 route came, and Leith Hill became optional, most of the riders willingly took it, which I was not expecting. Some went unwillingly due to a hard lined spouse who clearly wanted to show their partners how to suffer Surrey style.
When the last amateur riders were coming through, I decided to call it a day, in lieu of waiting 3 hours for the pros to come through. There were more than enough volunteers, as two extras turned up in the morning, depriving me of a fluorescent jacket (I let this go because fluorescent yellow attracts insects), and they were all set to stay there as they had arrived by car. Instead I went home for a big lunch and turned on the TV in time to see the crowd control stewards that I had met earlier in the midst of huge numbers of people who had turned out to egg on the professionals!
So spare a moment to think about the organization behind the closed roads and all of the other volunteers that gave up their time to make the event, and every sportive you've been to a success. I can safely say that next year I hope to be cycling in it, but even if you don't get through the ballot, think about applying for a volunteer job if you can. The one piece of advice I would offer though, is take your own lunch if you're not a fan of cheese sandwiches, and if you don't go by bike, take a camping chair!