---
I was lucky enough to be successful in the ballot to get into the first ever Prudential RideLondon 100. Starting at the Olympic Stadium and taking in the Surrey Hills via Central London, before finishing on The Mall in front of Buckingham Palace 16,500 cyclists took part in Britain's biggest ever sportive.
From the outset, the organisation of this ride was of the highest calibre. Organised by the team behind the London Marathon, there could be no room for anybody arguing that they didn't know what to do!
Emails were timely, documentation was superb and extensive training advice was also provided. At registration, they even provided a numbered kitbag so that you could store your stuff with them and pick it up after the ride! The logistics involved were truly mind-bending, particularly as it was, blissfully, on closed roads. Even the registration, which I underwent the previous day, was efficient – it took all of 30 seconds at the ExCel Centre in East London, with an associated cycling exhibition.
However, would it be like that for the ride itself?
My cunning plan was to drive down to London very early on the morning and park in a previously booked car park at Finsbury Square in the City, then cycle to the start. My registration information informed me that I had to be at the start by 6:14 a.m. with a loading time of 6:38am. and an actual start of 7:14am. I was in Black Wave M – the details of which became clear later.
Having arrived and ditched by bag Black Waves and Blue Waves started from different points in the park. There were four starting "gates" and these changed their lettering as time wore on. At precisely 6:14, Gate G turned into Gate M by the simple expedient of G being removed and M fixed in its place via Velcro! It was a rather chilly start and I was glad of my gilet and arm warmers.
LOADING TIME
At precisely 6:38am, the gate opened and we entered the loading zone. All we had to do now was to wait until we were called to the start. The waves were being loosed alternately and in alphabetical order, so Blue Wave M immediately preceded Black Wave M, which immediately preceded Blue Wave N, etc.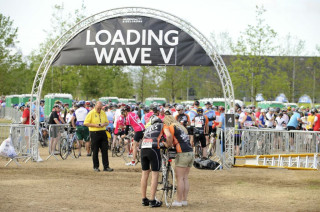 At precisely 7:14am, Black Wave M was released. The first two miles were untimed – the actual timed start was a good two miles down the road. All very relaxed and everything under control. Over the timing mats we went and I switched on my Garmin to record my stats for the ride. The event planning detail was paying off big-time – all very impressive indeed.
THE START
It was a flat start and the pace was high. I had a target time of 6 hours to finish the ride, so I calculated that I needed to keep my average speed at around the 17 mph mark to have any chance. By dint of following the wheels of groups going very slightly faster than me, I managed to keep this up without difficulty. In fact, my average speed before we hit the Surrey Hills was in excess of 19 mph! That would give me a buffer for the inevitable slowing up that would happen as I hit Newlands Corner, Leith Hill and Box Hill.....
Newlands came up after around 45 miles. I'd cycled the hills part of the course before, so knew what to expect. Because the roads were closed, there was absolutely no issue with cyclists getting in the way. The descent was also great fun, too, which boosted my average speed. I was still well within my target time, having stopped just for a few minutes break to top up my water and electrolytes.
With that negotiated successfully, next up at around mile 55 was Leith Hill. This is a serious gradient, with 15% in places and it's quite long. As it's quite narrow, this was a bit trickier, but again got up it with little problem, followed by another great descent.
Box Hill at Mile 65 is a lovely climb. Not very steep – it averages around 6% - but it has a terrific road surface (for the Olympic road race, of course) and a great view at the top. I had no time to stop, though, as I was being hassled by an ambulance trying to get past!
You have to wait quite a while before you get to descend Box Hill, but it's another great descent, most of which you can see the line of, so you can really let go.
The rest of the ride was relatively unremarkable, but the support, particularly in town centres, was brilliant. I was still feeling strong, so was putting some effort into this last 30 miles or so. My average speed was increasing steadily. 17.6, 17.7, 17.8 – could I make 18 mph? I didn't think I could as we were so near the finish.
The tension and the support levels increased the nearer we got. I was caught up on the moment and really going for it. As I was blasting along The Embankment, my average speed hit the magic 18 mph! Could I sustain it?
As we turned the final corner into The Mall, the noise levels were quite extraordinary. It was intensely emotional. I was head-down into a final push for the line, and raised my arm aloft as I went over the timing mat at the end. What a buzz.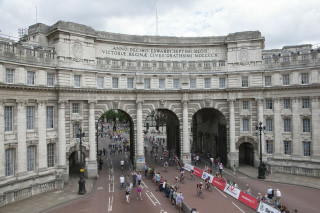 THE FINISH
As I had no-one to meet me at the end (sob), I picked up my kitbag and found, to my relief, that my car keys were still in it! Over a recovery drink I reflected on what I'd achieved during five hours 31 minutes, finishing very tired, but very happy!
The organisation and planning was meticulous, like no other sportive I have ever entered. We were very lucky with the weather, and the closed roads made such a difference. Massive chapeau to everybody who contributed – you had to witness it to understand the true scale of the whole thing.
An amazing experience, and a real privilege to be part of the inaugural ride. It makes you understand why people enter the London Marathon year after year – this is the cycling equivalent. The ballot for next year's ride opens on August 12 and I will definitely be applying again. I just hope I can get in and improve on my time!