---
Following a truly inspirational email from event co-organiser Darren Stringer, I was hooked on the idea of taking part in Yorkshire's tribute to the mighty spring classic Ronde Van Vlaanderen.
With numerous events to choose from to kick the season off, I decided it was time to bite the bullet and get stuck into something worthwhile. I read about this Ronde Van Calderdale, which featured 12 sections of cobbles, yet was only 20 minutes from home. It sounded ideal, though I hadn't much knowledge about the cobbles so close to home.
Further investigation revealed that the cobbled sections were actually climbs, which naturally raised the bar on this early season challenge. Anyway, I was in and there was no turning back from riding and supporting this event, which solely raises funds for the Go Ride accredited Kirklees Cycling Academy, welcoming all 6-18 year olds wanting to improve their cycling skills, take up racing and become champions!
I arrived to a super friendly welcome and following a swift sign on, we were whistled to the start at the Spen Valley Sports College, Liversedge, West Yorkshire. Following our briefing we were off to find those roads less travelled. Now, I'm not sure how many people are familiar with the roads of Yorkshire, but it has some pretty serious terrain to offer, which I had come to know having lived in the region for fifteen plus years; or so I thought. The next 80 miles however, really were to be something else! The route was set out as a three loop clover leaf, all circumnavigating Halifax and criss-crossing the steep surrounding valleys. Oxenhope to the North, Slaithwaite to the South, Denshaw West and Liversedge East. 77 miles in total with 3200m ascent!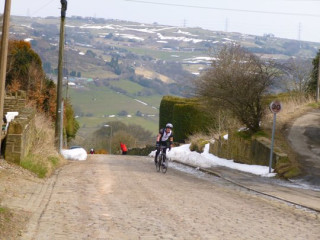 This largely, well-experienced field were all in good form, showing courtesy and good rider etiquette to one and all, mixed with the usual good humour these particularly social events offer. Without much ado, we had just passed the highest motorway in England to then drop approx 600m like a stone to the valley bottom, where the unknowingly, including myself, were greeted with the first cobbled climb of the day. First gear came and went immediately and we were onto the 15-20% sharpener for several hundred metres. The pave was big, the slope was stiff and the keep it rolling big gear theory was out of the window. Simply push on as you could and get to the end. Thankfully, my legs were relatively fresh and I was able to pass this enlightening experience of things to come. After cresting the top and catching my breath, the thought of this being the true form of the day sank in. The rest of the ride certainly did not disappoint.
The sun was out and riders were in good shape. I settled in to a small group who came and went, but generally rode together as we all pitched, rolled and made our way along this glorious, but very challenging ride. Heading out and across the high moorland we passed through recently ploughed snow drifts and with little contouring of the hillsides, this ride took in some of the most spectacular, breathtaking scenery the region has to offer. With bright sunshine and crisp cool air, it was great to be out on this real adventure.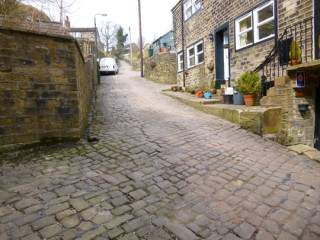 With 12 sections of cobbles in all, I can say that they were all pretty challenging at times, not to mention the effort just pulling on the bars to turn a wholly inappropriate 39/25 gear. There were however, 3 notable sections being the infamous Shibden Wall, which I'll say is quite literally a wall; Old Lane in a very picturesque Luddenden and the stupendous Trooper Lane, which really has to be seen (and ridden) to be believed. Oh yes, they really did save the best to last. Savage, but I loved it. The lane begins with some welcomed smooth tarmac, albeit 20- 25% before taking on the cobbles which twist and turn out of sight, for as far as you dare to glance. It must have been several hundred metres, but in honesty it could have been far less, though I was certainly glad when it was passed.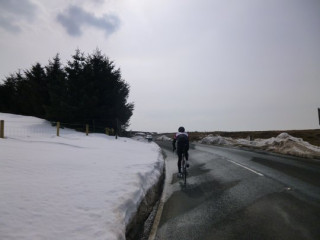 What a feeling of accomplishment to complete the day, which is one of the major reasons to do these events in the far and not so far flung places. It's fabulous that you can turn up and ride far afield (or on your doorstep) and be lucky enough to follow a route that would typically take a lifetime to find if it wasn't for the knowledge the locals can offer.
This collection of cobbles and overall challenging day out was planned by ex-pro and local man, Mick Collins, who set the route with his cap firmly tipped to the seasonal classics happening just across the channel. We didn't quite have the Flandrian or Roubaix crowds, but there were buckets of enthusiasm and encouragement from the well wishers throughout the route, not to mention those who sat to watch riders pit themselves against the toughest climbs of the day.
With Trooper Lane done, it left only 15 kms or so back to the HQ, where an equally warm greeting, certificate and epic sense of completion and camaraderie rang throughout. A great club feel, from a great club event. Riders hung around to catch up on the day and speculate who had made it first across the finish line in the Roubaix velodrome as part of another exciting year of the Classics.
Be sure to look out for this one next year, as it could well become one of the must do UK Classics given the no fuss approach and possibly the most challenging ride on the whole of the Sportive event calendar.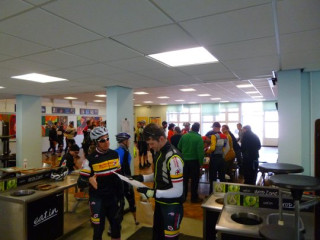 Inspired to enter sportive and challenge yourself? Have a look through our Sportive Calendar for upcoming events.