Event: 2 June 2013
---
David Cameron has called on the British public to show its support for our Armed Forces by taking part in Help for Heroes' 2013 Hero Ride. The PM pledged his support for the exciting new cycling initiative during a recent visit the Phoenix Centre, the charity's new, state of the art sports facility at the Tedworth House Recovery Centre in Wiltshire.
(from Left to Right): David Cameron and Jon-Allan Butterworth, World Champion and Triple Silver Medallist at the 2012 London Paralympic Games
From May 20th 2013, cycle rides will set off from all corners of the country and from abroad, before meeting at Blackheath on the morning of 2nd June 2013. From there, thousands of riders, led by the biggest cohort of wounded servicemen, women and veterans, will cycle into central London in support for those who have suffered life-changing injuries or illness whilst in service. They will lay a wreath at the Cenotaph in memory of those who lost their lives in previous conflicts, cycle past Buckingham Palace, then up The Mall and finally into the Horse Guards Parade.
Bryn Parry, CEO and Co-Founder of Help for Heroes, said: "With the withdrawal of troops from Afghanistan coming ever closer, people will think that the job is done. The war may end but for our wounded, the battle will have only just begun. We must not forget them. We will pledge to support our young men and women, and their families, now and as they grow old and will be there for life."
Hero Ride is an expansion of the Big Battlefield Bike Ride, which marked the launch of the charity in 2008. It will be the biggest cycling demonstration of national support for the wounded this country has ever seen. Its aim is simple – to raise a minimum of £1m for Help for Heroes to ensure that those who have suffered life-changing injuries and illness whilst in service are not forgotten about and get the very best support, for life.
David Cameron said: "I am delighted to launch 2013 Hero Ride. It will be a truly fantastic sight to see thousands of cyclists come from all over the UK, riding to The Cenotaph, in support of our men and women of the Armed Forces. I wish Help for Heroes every success in meeting their target of raising £1million, which will help continue the excellent work that is done at Tedworth House and elsewhere, ensuring our veterans get the support they need and deserve.
"I never fail to be amazed by the sheer grit and determination of our forces and what they can achieve both on and off the battlefield. Meeting with some of our wounded serving personnel and veterans and seeing just what they have achieved – some of them cycling the width of America - brings this into sharp focus. I, like the rest of the country, have nothing but admiration for them."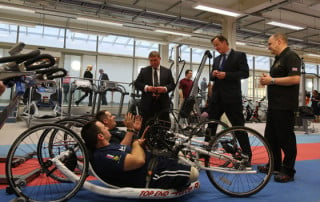 (from Left to Right): on hand bikes Simon Harmer and Steve Arnold (wounded servicemen), Mark Francois - Minister for Defence Personnel, Welfare and Veterans, David Cameron and Help for Heroes' Martin Colclough – Head of Battle Back Phoenix Centre Programme.
David Cameron pledged his support for Hero Ride alongside World Champion and Triple Paralympic Silver Medallist, Jon-Allan Butterworth, who took part in the first Big Battlefield Bike Ride in 2008 after returning injured from Iraq.
He said: "Help for Heroes helped with my recovery and put me on the path to competitive cycling through the Battle Back Programme. Before my injury, I fought for my country. Today, I represent Great Britain in cycling. Register for your Hero Ride and help others like me. It will take you on an adventure and at the same time raise vital funds to support the great work that Help for Heroes do."
Hero Ride will be made up of the Big Battlefield Bike Ride (now full), the Dawn Raid Sportive and Self-Organised Hero Rides, all of which will come together in Blackheath Common on Sunday 2nd June before forming one mass staged ride into central London.
The initiative is designed for riders of all ages and abilities, the majority of which will organise their own rides with Help for Heroes' support. There is also the 'Dawn Raid' sportive from Tedworth House, the charity's flagship Recovery Centre in Wiltshire, for riders who enjoy a tougher cycling challenge. The 250 cyclists will set off in the small hours of Sunday 2nd June and ride 90 miles to get into Blackheath for mid-morning.
Another cyclist who's pledged their support for Hero Ride is Mark Cavendish, 2011 World Champion and Multiple Tour de France Stage Winner: "I have seen first-hand the great work that Help for Heroes do and I'm a passionate supporter of the charity. Hero Ride is a very special project to me because it engages the sport I love for a greater cause. Get on your bike and set yourself a challenge – whether it is to ride 10, 100 or 1,000 miles - join Help for Heroes in London on 2nd June for the grand finale."
Click here to watch the PM talk about Hero Ride. To find out more about Hero Ride and to register, visit www.heroride.org.uk