Event: 26-27 May 2012
Location: Stratford-upon-Avon Racecourse
Interview: Eddie Allen
---
It can be difficult for family men and women to fit sportive riding into a busy weekend. Getting the required 'pass-out' to take off for a day and leave the family behind can be nigh-on impossible at the best of times. Mike Grisenthwaite, organiser of 27 May's Wheel Heroes Sportive in the Cotswolds is well aware of the problem and has put together a fantastic, family-friendly two day event to raise money for the Cyclists Fighting Cancer charity, meaning that you won't have to leave anyone at home. We caught up with Mike a few weeks ahead of the event to find out more and see how preparations are going.
"We've got over 600 entries now and we're hoping to get 1000 on the day. We're about 150 entries ahead of where we were last year so we're really pleased," said Mike, who ran the event for the first time in 2011 and attracted a phenomenal 735 riders to Stratford-upon-Avon racecourse, which will host the event again in 2012. Mike continued; "Part of the reason for the great response is because it's all for our charity, Cyclists Fighting Cancer, there's no other third party interest – that resonates with people,"
It was following feedback from the 2011 event that Mike and the CFC team decided to expand to a two day festival format; "We were so stoked by the response that we thought, 'let's pump it up a bit,'" explained Mike. "Last year, some of the feedback was along the lines of 'wouldn't it be great if there was something for my wife/husband to do when I'm out on the ride'. That spawned the whole festival idea."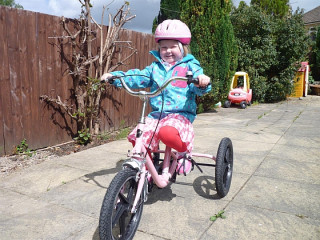 Cyclists Fighting Cancer's aim is to get kids who've survived cancer onto bikes and the proceeds from the ride will all go towards this worthy cause. Making Wheel Heroes an inclusive, family-oriented event makes total sense, allowing the charity to maximise the number of people able to take part. "On the Saturday, we're doing Go-Ride Racing for 6-12 year olds," enthused Mike. "We've got balance bike races for under-fives. We've got a local theatre company coming down, the local butcher doing the barbeque – it's going to be an awesome event."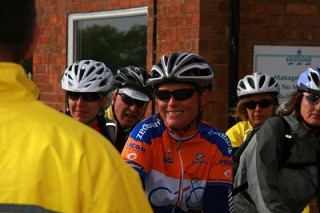 "The first day is a family fun day based around cycling," he continued, "We've got a cycling movie screen, stunt bike displays, Rollapaluza. Plus we've got The Puncture Kit, a drummer whose bike becomes a drumkit."
Moving onto the Sunday, the range of ride distances, four options (10 miles, 25 miles, 100kms and 100 miles) underlines Mike's aim of making the event both challenging for the more experienced rider and inviting for the newcomer. "The range of routes means that, on the Sunday, the rest of the family can tackle the 10 or 25 miler while you go off and do your ride," explained Mike.
Looking at the routes themselves, Mike, a cyclist himself, designed them around his favourite Cotswold rides; "The routes go out around the North Cotswolds," said Mike, "arguably some of the prettiest countryside in the UK."
"Basically, they're my favourite bike rides – my favourite climbs, favourite villages to pass through," continued Mike, before going on to explain the need to pitch the level of challenge carefully for this charity-based sportive: "Because we're trying to encourage people to ride and raise money for Cyclists Fighting Cancer, we've pitched the route at the first time challenge rider, who's more likely to raise money for the cause," said Mike. "It's challenging but doable. There's one climb (Stanway) that's a 7% average that gets you onto the plateau. Once you're up there it's undulating and then once you've dropped down into the chocolate box town of Chipping Campden it's pretty much downhill to the finish."
Whilst out on the ride, participants will be treated to feeds every 25 miles, with a big selection of snacks, sports nutrition and drinks. Out on the route, navigation will be easy thanks to the event's fluorescent orange and blue signs and there will be St John's Ambulance support, outriders, a sag wagon and marshals at key points.
"At the finish, we've got medals, goody bag, massage and a free barbeque for every rider and a finish area where people can relax, sit down, have a burger and wait for their mates," concluded Mike, leading me to ask if he'd got some good weather ordered for the day, as he seemed to have all other bases covered.
"It's going to be fantastic," joked Mike, "I had a vision this morning – I was stood there in my shorts, sunglasses, T-Shirt and it was baking. So there you go – that's how it's going to be!"
We wish Mike, his team and everyone riding the best of luck, and the best of weather, on 26th and 27th May. To find out more, enter the event and help raise funds for Cyclists Fighting Cancer, click here.