Event: 6 May 2012
Location: Newport, Pembrokeshire, Wales
Preview: Eddie Allen
---
Fishing harbours, high mountains, 'vicious' climbs, bounteous food and a warm welcome – that's what's promised by Carl Davies, principal organiser of Sunday 6 May's Preseli Angel sportive.
Above: The dramatic coastline of Pembrokeshire.

Pembrokeshire in West Wales is famed for its dramatic coastal scenery. However it's less well known for its principal range of hills, the Preselis, which rise south of the seaside towns of Newport and Fishguard. This is the domain of the Preseli Angel sportive, a divine sounding route with some vicious twists, as Carl Davies explained when we caught up with him during the busy lead-up to the event.
"Last minute preparations are going fine", said Carl, now in his fifth year as organiser of the event."You kind of get into a routine. We ('we' being local club Velo Teifi) are fairly self sufficient in getting things set up. We've got a core team who know what they need to do and when they need to do it. There are no great dramas really."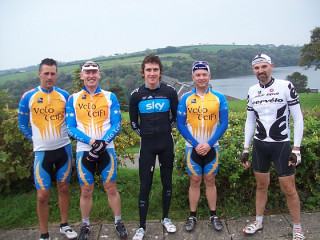 Above: Geraint Thomas with members of organising club Velo Teifi.
The one exciting change from the preceding four years is a fairly big one – a completely new route, as Carl explains – "We've changed it completely from previous years. Listening to riders over the past few years – what's been good and bad about it – hopefully we've taken out most of the 'bad' now, just kept the good and added to it. Sunday afternoon will be the test!" Large parts of the new route around Fishguard have been recently resurfaced too so riders will be treated to fresh tarmac for part of the course, courtesy of the various local councils.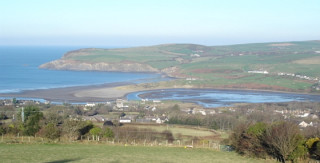 Above: More Pembrokeshire views.
The event came into existence originally as an addition to the popular Spring Festival in the pretty little seaside village of Newport and, year on year, grew to a point where it dwarfed the festival itself. "It grew an identity all of its own then" said Carl, "So three years ago we gave it its own identity, called it the Preseli Angel and ran it as a sportive in its own right."
The 'Angel' part of the rides name comes from the mountain that Newport sits at the foot of – a local peak known as Carningli (pictured right) – 'Ingli' being Welsh for 'Angel'. Also, Carl and the club were keen to give the ride a friendly name; "Well there was already a Devil ride and other rides with evil connotations, so we just felt it was appropriate to try and go the other way really," reasoned Carl with a laugh.
Angelic by name perhaps and certainly picturesque but listening to Carl describe the route, the word 'vicious' was used on a number of occasions. After a fairly gentle start down the coast to Fishguard, passing through Lower Town and past the harbour the first 'vicious' aspect of the Angel is revealed; "You get a nice pleasant run through Lower Town and the harbour side. Then there's a short, vicious climb up into the town of Fishguard itself, said Carl".
Carl continued, "From there we take them back out to the Gwaun Valley – it really is a step back in time – it even celebrates its own new year a month after the rest of the country! It's a pretty route – from there we skirt around the edge of the Preseli mountains bring riders ultimately back to the foot of one of the main climbs – about two miles of climbing up to a local 'Col' and beauty spot – Bwlch y Gwynt, which is where the first food stop will be."
The route then drops out of the mountains on a scintillating-sounding three mile descent, after which the long (78 mile) and short (40 mile) routes split. "The short route heads back along the valley toward Newport via the quaint village of Nevern", Carl explained, "while the long route explores the eastern side of the Preselis, where we loop them around some more interesting valleys and a few more vicious climbs before bringing them back to the Preselis."
It wasn't long before the 'v' word was mentioned again. Carl continued "There's one more vicious climb at about 70 miles – it's about 25% climb for about half a mile, before it flattens off to a steady 5% climb back to the top of the Preselis, before a final descent back into Newport with lovely views across North Pembrokeshire, Cardigan Bay and the Preseli mountains.
"We don't do gentle climbs around here," admitted Carl, just to clarify, "It's either short and sharp or nothing at all. We've tried to include some variation but inevitably there are a few vicious ones in there. But people seem to like it!"
This certainly seems borne out by the growing list of entrants year-on-year, coming to this remote location from the Midlands, East Yorkshire, South Wales, the M4 corridor and even the Lake District.
It takes more than just big climbs to attract riders from far and wide; the 'feel' of an event is become increasingly important; "They seem to like our event, mainly because it's quite small," reasoned Carl. "It's not too intimidating – there aren't thousands of riders on the road – it's just hundreds that take part. It's nice and relaxed – feed-zones are pretty chilled out and in a picturesque location where you can sit down and have a sandwich before getting back on with the ride."
"We've seen a real influx of first timers," added Carl, "20 to 30 percent of the field are first timers and they come back hardened experts next time – so we must be doing something right."
Riders returning in 2012 will be well catered for with two food stops on the long route and one on the short. "They're well stocked affairs. We're focussing heavily on sandwiches this year – there's been a big call of 'no more bananas and flapjacks please!' - people want something more substantial," said Carl.
"The registration area is in the local boat club in Newport. It's a nice day out for the family – you can drop them off there and they can sit on the Estuary, have a drink and enjoy the village" he continued. An important point on a sportive taking place on May Bank Holiday, when the whole family needs entertaining.
The feed stations will also be carrying water and energy drinks and the long food stop will be carrying Coca Cola to give riders that energy rush they need with about 20 miles to go. Carl and his team have put their major resources into great signage and plentiful food, forgoing chip timing and goody bags, enabling them to promote a keenly priced event, at just £15 for the long route and £10 for the short.
"We've aimed to just break even this year so we've driven the prices down," explained Carl. "We've tried electronic timing and goody bags but what goes down well and keeps the cost down are good food and a challenging but rideable, well signed route. That's been our focus this year.
"Making sure everyone gets around safely without having to think too much; making sure they're well-fed on the way around and making sure they get a warm welcome on the way back. That's all you can ask for really".
The Preseli Angel takes place on Sunday 6 May and entries are still available. Click here for more details.