---
Join the British Heart Foundation on the London to Brighton series new for 2012
From the charity that brings you the original London to Brighton Bike Ride the British Heart Foundation (BHF) announces the new London to Brighton series. The BHF is offering the iconic London to Brighton route in three ways. Do it your way by day, by night or off-road and use your pedal power to fight heart disease.
The first event is the London to Brighton Night Ride leaving Clapham Common in London at midnight, this night-time twist is set to test riders' moonlit cycling skills on the 60 mile route, finishing on Brighton seafront at dawn. It takes place on Saturday 26 and Sunday 27 May and registration is now open.
The second event is the original and much loved London to Brighton Bike Ride which takes place on Father's Day, Sunday 17 June. The 54 mile route will see over 27,000 people pedalling their way over Ditchling Beacon to the seafront of Brighton. Registration opens on Saturday 3 March at 10am.
The third in the series is the London to Brighton Off-Road Bike Ride, a 75 mile route almost entirely off-road. It's challenging and will test off-road skills as it mixes cycle paths, single tracks, forest tracks and downhill sections. The event is on Saturday 22 September and registration is now open.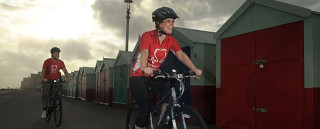 Riders in all three events raise money through individual sponsorship and the BHF is hoping that donations will top £4 million, to enable it to continue with its life-saving and pioneering work.
TV commentator Phil Liggett said: "The London to Brighton Bike Ride is a famous event and always has a huge buzz around it. By adding the night ride and the off-road bike ride to the series, the BHF has given cyclists an array of different challenges and there really is something for everyone."
Peter Hollins, Chief Executive at the BHF, said: "We are delighted to be launching the London to Brighton Bike Ride series with the support of Santander. Our London to Brighton Bike Ride is a flagship event for the charity and it is estimated that over the last 36 years, 747,500 riders have taken part pedalling an astounding 40 million miles between them and raising over £50 million for our vital work. By taking part and raising sponsorship, you really can make a difference to people's lives. I hope that people will be inspired to sign up for one of these fantastic London to Brighton Bike Rides - three journeys, one destination, one cause."
To find out more about the London to Brighton Bike Ride Series visit bhf.org.uk/l2b or call 0300 456 8355.