Eddie is Web Content Manager at British Cycling, one of a growing team looking after British Cycling's online presence. By his own admission he's not your run-of-the-mill sportive rider - no lycra and no drop bars in sight, a veritable tortoise amongst the hares. However, he's ridden a fair few sportives in his time, always preferring comfort and a ready-for-anything approach over out and out speed.
---
Above: Eddie taking a breather at the top of Bwlch y Groes during a mid season 'training ride'.

Name: Eddie Allen
Gender: Male
Age: 39
Height: 6' 0" on a good day
Weight: Ahem, 88kg
Bottom Gear: 34t front, 25t rear
Current bike: 2011 Ridgeback Flight 01 fast hybrid/flat bar road bike – not everyone's first choice for sportives but a very effective all-rounder for commuting, light trail riding and longer rides.
What do you take with you on a ride? Two spare tubes, multitool, tyre levers, spare base layer, lightweight waterproof/gilet, trail mix, dried fruit, wallet, phone, first aid kit. All in a hydration pack with a few litres of water. Might seem like overkill but over the years I've used every item at least once or lent it to lesser equipped peers. The hydro-pack might be a bit 'MTB' for a road event but very effective for regular hydration on the move. Plus I've never been a TdF wannabe.
Why do you ride sportives? I commute by bike regularly but every now and again I like to test myself against some of our country's challenging topography. To be able to do this with like minded others and with the support of an event organiser behind me is great.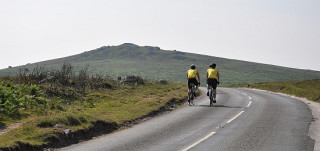 Above: The 2010 Dartmoor Classic (the one when the sun shone from dawn til dusk).
What was your last sportive? The Dartmoor Classic – a wonderful route, great scenery, big climbs and great organisers (Mid Devon CC). Here's my report.
What's your favourite event and why? My favourite event so far has to be the Dartmoor Classic. Any event that can serve up amazing scenery, quiet roads and pizza at the feed-stations has to be at the top of my list.
What's the longest sportive you've done? 100 miles in the British Cyclosportive back in 2007. Back then I was at my fighting weight so it was surprisingly easy. Nowadays I tend to do shorter 60 mile events – more in tune with my pain threshold!
What's your most memorable sportive moment? Reaching the top of Waddington Fell with my two teenage sons on the Pendle Pedal.
What's your worst sportive moment? In a way also the most memorable, but hitting the bottom of the 'dark side' of the Bwlch y Groes near Bala after about 80 gruelling hilly miles of the Wild Wales Challenge. Good job I had shoes designed for walking and biking.
When was the last time you walked up a hill? Ha ha!! Please see above. After that I learned that I'm not built like a grimpeur so my bike isn't geared like a grimpeurs either!
What's the funniest thing that's happened to you (or you've seen) on a sportive? During the excellent Spud Riley Grand Fondo – turning a corner on a narrow lane and suddenly being surrounded by a herd of around 100 Fresian cows. Did you say funny or terrifying?
How much training do you do before an event? Not enough. I'm ashamed to say that up to now I've gotten away with just my regular commuting, plus a few longer rides in the month leading up to the event. But as I get older, this technique is proving less and less effective!
What's your top sportive riding tip? Be prepared for changing weather conditions. Always take a lightweight waterproof and an extra layer. Many sportives take place in Britain's wildest places and you never know the minute when the weather can turn.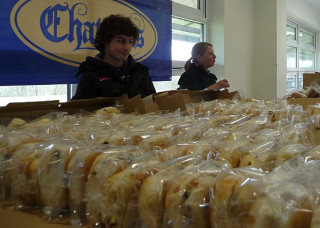 Above: Sportives and cakes go hand in hand, at least for me. Here's my favourite moment from the 2010 Cheshire Cat.
Favourite feed station fodder? Cheshire Cat a few years ago. Cheshire's finest Chatwins bakers provided full sausage roll and Danish pastry support for the event. I'm afraid I may have eaten more than was prudent.
---
Send us your Sportive Profile!
Just complete this template and return to editor@britishcycling.org.uk with Sportive Profile in the subject line and claim your fifteen minutes of fame. Feel free to attach an image or two of you in sportive mode too!