---
With less than a week to go until the Twinings Sportives on 27 August, there is still time to enter one of the two fantastic sportives, which take in some of Wiltshire's finest cycling country.
There are two routes available, the 60 miler is a perfect first sportive for riders new to the discipline, while the 100 miler will challenge more experienced sportivers.
Above: 60 mile route map
60 mile route - A challenging yet enjoyable route, this 60 mile loop meanders through the Avon valley and enjoys the rolling roads of Salisbury plain. The main port of call for the 60 miler is Andover, but not before the ride has taken in Bulford and South Tidsworth first. The one and only stop on this ride will be in Andover, the home of Twinings where riders can partake in tea with Twinings and recuperate before heading down the road to complete the second leg of their ride.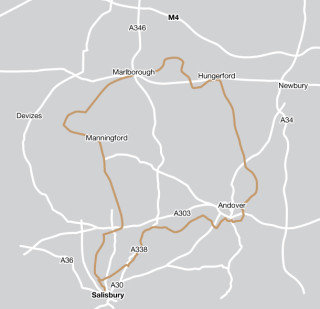 Above: 100 mile route map.
100 mile route - Sharing the same outward leg as the shorter 60 mile ride, this ride for the dedicated sportive rider which includes over 1,000meters of climbing initially heads north across Salisbury Plain taking the riders past the Wiltshire Whitehorse's before turning east at Alton. The first organised pit stop for the riders will come after approx 35 miles of riding in Marlborough where riders can enjoy a well earned break before pressing on towards Andover via St Mary Bourne. At 70 miles Andover provides the perfect opportunity for a second breather for the riders and its here they can join Twinings for Tea at the second refreshment stop. Once suitably refreshed after their tea break the riders then continue on the final leg of the journey back to Salisbury, taking in Boscombe and Porton Down along the way.
If that's not enough, British Cycling is offering members a 20% discount on entry to either Sportive event, which forms part of the exciting Twinings Tour Pro-Am weekend of cycling in Salisbury, Wiltshire on 27th and 28th August 2011.
For full details and to enter online go here.