Follow britishcycling.org.uk on
Pain on the Plain Sportive Update
Wondered why the route hasn't been released yet?
Posted: 14th July 2010 | Event: 25th July 2010
Wheels in Wheels Events Ltd are pleased to bring you an update on the upcoming Pain on the Plain sportive in Tidworth on Sunday July 25th.
When Wheels in Wheels announced the Pain on the Plain sportive in Tidworth on Sunday 25th July, there were several enquiries as to why the route hadn't been released at the same time. The reason for this is that the route uses some of the roads through the army's training ground and there are some pretty big vehicles using it at the moment - mainly Challenger tanks like the one above!
Both the 90 and 60 mile routes take in some of the best roads on Salisbury Plain as well as a few exclusive military roads to add variety and difficulty to the course. The actual routes will be announced the week before the event as the organisers don't want anyone sneaking on to military land to recce the route.
Rest assured that the course will be up to the usual standards from the people that bring you the Forest of Dean Spring Classic sportive with well proven signage, electronic chip timing and well stocked feeds en route as well as mechanical back up.
So, unless you feel like trying to outrun over 60 tonnes of metal...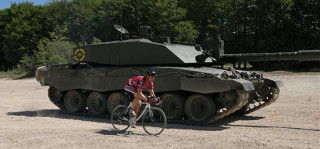 Above: Organisers suggest you're probably better off coming along on the day.
All proceeds from the event will go to the Soldiers, Sailors, Airmen and Families Association and there will be the opportunity to raise extra funds through sponsorship for the charity with sponsorship forms available on line.
For more information on the Pain on the Plain sportive and to enter on-line please visit www.wheelsinwheels.com