Follow britishcycling.org.uk on
Preview: Wild Edric Sportive
2010 Verenti Wild Edric, 5th September 2010 – Shropshire, Wales and 'The Marches'
With a leisurely 9am start and much revised route for 2010 set amid the suitably legendary countryside of Shropshire and the Welsh Marches, The Verenti Wild Edric sportive is named after the local folk legend as his name sets the tone for this fantastic sportive.
The area used for the Verenti Wild Edric has flat sheltered sections and wooded valleys but is wild and open in places; yet a real pleasure to cycle in - relatively traffic-free yet accessible from mainline rail and motorway. Technically Verenti Wild Edric is in the West Midlands and you might be surprised how remote, open and wild the countryside is here yet so close to the heart of England (and the Welsh Marches!).
A land of myths and folk tales the area is not only beautiful but hilly; and at a spectacular 1,600 feet the climb up to Boiling Well on Long Mynd has become a legend in its own right.
Above: Ancient and pretty HQ town of Bishop's castle
For 2010 we've much improved the routes. Riders told us that the 2009 'Edric' will go down as one of the toughest sportive challenges ever in the UK with constant climbing in mostly deserted lanes, temperatures into the 80's and a tough hilly route. Well, for 2010 we've still got some hills but certainly not so many as 2009. Furthermore, when you get to the top of most your are greeted with some breathtaking views over Shropshire and Wales with exciting and rewarding descents to enjoy. Roads are bigger and wider, but not necessarily busy with traffic. We've got flat spells with no hills and picture postcard villages. There are mountains to climbs and hidden valleys to explore in Shropshire - the secret county.
Above: Stretton Hills near Long Mynd and Church Stretton
This year's Verenti Wild Edric is a sportive for everyone but it's still one of the toughest and most fulfilling challenges around. Not only will your legs be challenged but your whole mind, body and soul too. We can't predict the weather but we have a much more enjoyable route this time. However the long option is a stonking 103 miles and there are indeed 3 noteworthy climbs - Long Mynd (aka Asterton Bank), Long Mountain and Kerry Hill with its stunning views south over the Ithon Valley.
The 54 mile option misses Kerry Hill. This time we've got some sweeping descents and long flat sections on wide roads with good surfaces and visibility to enjoy. Then there are the ancient towns and villages we call at like Church Stretton, Westbury (feedstation), Montgomery, Kerry, Knighton and Clun - not to mention the pretty old HQ town of Bishop's Castle. There are lovely old pubs and shops to browse at if you find the time. If you haven't been to this part of England and Wales do go there, it's lovely; but remember, Shropshire is known as the secret county!!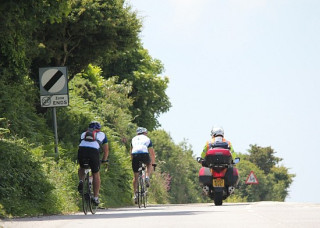 Above: Ready for that long descent
The Verenti Wild Edric sportive provides the latest electronic timing systems, NEG mobile safety marshals, quality isotonic drinks from HIGH5, post event massage from Star massage and professional photography from Sportivephoto.com for example. You'll also be able to see the superb range of sportive specific bikes from Verenti
Full details are at www.kilotogo.com